Last Updated on July 29, 2020 by Bestusefultips
It's simple to enable or disable app background data Android 7.0 Nougat. You can view details of cellular data usage by any individual app using app settings. There are several apps that unnecessary running and use more data in the background. Also, reduce mobile data usage using this. You can clear the cache data for all apps at the same time. The different device has slightly different settings turn off background data of app in your Android 7.0 Nougat and other devices. This setting also useful to get internal storage details, app permission, data usage, block app notifications, set lock screen notifications, and memory use by apps.
Read Also:
How to Enable or Disable App Background Data Android 7.0 Nougat
You can disable app background data on Android phones using below given settings.
Step 1: Tap on "Apps" from the home screen on your device.
Step 2: Go to "Settings".
Step 3: Under the device section, tap on "Apps".
You can show a list of all installed apps on your phone.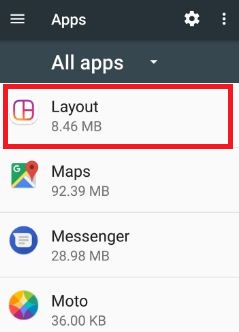 Step 4: Tap on Any app.
Step 5: Touch "Data usage".
You can see the above screen on your device. By default enabled background data on your Android phone.
Step 6: Toggl off "Background data".
Also, use the below settings on your Android 7.0 Nougat phone.
Settings > Data usage > Cellular data usage > Select app > Background data
In your Moto G4 plus and other latest devices, you can show memory used by apps in the last 3 hours/6 hours/12 hours/1 day using below settings.
Settings > Device > Memory > Memory used by apps > Tap on any app to view individually memory usage
Use below settings to show internal shared storage memory by the individual app on your Moto G4 Plus phone.
Settings > Device > Storage > Internal shared storage > Apps
Using the above settings, you can clear app data on your android phone.
Turn Off Background Data on Android 6.0 Marshmallow

Settings > Data usage > Three vertical dots (Menu) > Restrict background data > OK
That's all. I hope the above-given steps helpful to disable app background data android device. If any kind of problem when implement, let us know below comment box. Stay connected with us for daily latest technology updates.