Last Updated on March 7, 2021 by Bestusefultips
Here are the 7 best fitness tracker apps for Android. I have found the best free Android fitness tracking apps for your health and weight loss using different exercises, fat loss, calorie burn, track status, and more. With these fitness apps, you can do daily different exercise as per your comfort zone. Fitness tracking is an important part of working out. It lets you view your progress over months and years. Additionally, it helps encourage you to do your best so that your numbers get better. There are a variety of other reasons to track your fitness as well.
Read Also:
7 Best Android Fitness Tracking Apps in 2020
There are a ton of options, but we can help you find the best ones. Now some more excellent Fitness tracker apps to check out.
Runtastic
Runtastic is one of the most popular fitness tracker apps in the Google Play Store. Runtasticprovides set goals, uses a built-in GPS to record routes in real-time, and even lets you share your successes with your friends. By tracking your mileage, Runtastic gauges what wear and tear your trainers are enduring. You can listen to Music with high tempo playlists for true musical motivation.
Samsung Health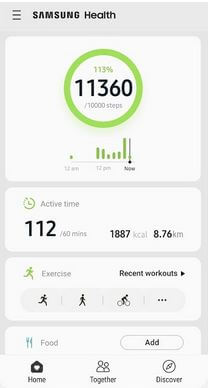 Samsung Health provides your body fit and healthy. When you walk or run, play indoor or outdoor sports, you can add and track the various physical exercises and activities in a single step using the various built-in trackers. This App helps to create a balanced lifestyle pattern by recording a variety of information. Samsung Health supports over 70 languages.
Google Fit Fitness Tracking App For Android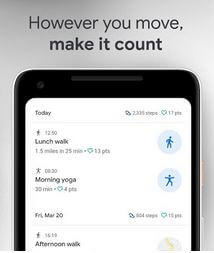 Google Fit is Google's fitness tracking solution. It tracks some super basic on both your mobile phone and your Wear OS smartwatch if you have one. Google Fit uses metrics like heart points and move points to show if you are getting enough exercise. You earn move points by moving and heart points by getting your heart rate up. This is a decent solution for beginners and intermediates along with people who don't want the super tedious methods of more hardcore fitness tracker apps.
Daily Workouts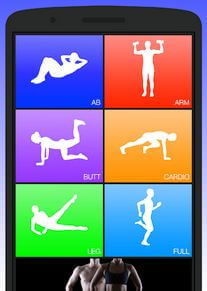 Ideally, staying fit and healthy means hitting the gym or track regularly. However, sometimes, you may not have the chance to get out nor the time to dedicate to it. This fitness trainer app is use to exercise well in your home. You can choose which area of your physique you'd like to target and the app offers a simple yet effective five to 30-minute workout that fits the bill. The uniquely genius thing about this app is its simplicity. Download it, pick a discipline, and get working.
Running Distance Tracker App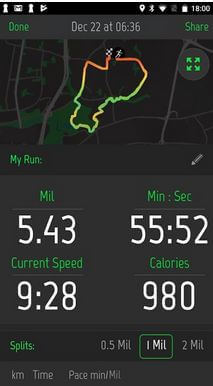 Running Tracker+ is exactly what the name implies. It tracks your distance if you decide to take a walk or a run. It has a bunch of standard features, like total distance, average pace, pace per kilometer a run log, and other helpful features. You can also pass your music through the app for some motivation and the app tells you when you've run a kilometer and what your pace was during that kilometer. Most of the basic functions are free in the app. There are a variety of workout routines that require either a subscription or a lifetime purchase.
Curefit – Android Fitness Tracker App

Cure.fit app includes helpful training videos, a routine log, and a handy calendar feature and many more features available in this app. Technology may have come a long way, but you just can't beat support from world-class coaches. That's exactly what this tracking app offers.
JEFIT Workout Tracker
JEFIT Workout Tracker is one of the best fitness tracker app with a lot of features. The app features fitness tracking, cross-platform support, training programs, and little things like workout timers. It supports over 1,300 workouts and you can track yourself doing any of them. This app can provide a free fitness program database to help you stay fit, make progress, and get the most out of your gym or home fitness sessions. For beginner programs like 5×5, 531, strong lifts, 3 or4 day splits, starting strength to advanced bodybuilding, weightlifting, powerlifting, or kettlebell routines to programs using bodyweight, limited space or specialized equipment. You can also set your health goals, see video examples of every workout, and track your progress over time. The app has a free version that is okay.