Last Updated on March 7, 2021 by Bestusefultips
In the current situation, a workout is the most important thing in our daily life. Exercises and gym are some of the best activities that can do for weight loss and if it is available on a smartphone is best providing services for us. Here are the 7 best free workout apps for Android in 2020. These applications provide you to do a workout at your home daily with proper video instruction for beginners. Exercise and Gym is the best activity for body maintenance and weight loss. In all applications can provide steps vise exercise for beginners to start a workout for self at home. In android phones, free workout applications have provided different apps for women and men.
There are a lot of Android free workout apps 2020 out there, and choosing the best one for you can take your precious time. Don't worry! I will help you, I have found the best workout application for your health and weightless using Android smartphone for you. With these apps, you can do daily different exercise as per your comfort zone.
Read Also: Best Health & Fitness Apps For Android
7 Best Workout Apps and Exercise Apps For Android in 2020
Now some more excellent free workout apps or gym apps to check out!
Home Workout – No Equipment
This Application helps you to do a workout at home using without equipment and build muscles and keep fitness without going into the Gym. Doing Workouts at  Home provides daily routines exercise for all your main muscle groups. In just a few minutes in the day, you do the best fitness exercise without any equipment or coach. This app has workouts for your abs, chest, legs, arms, and butt as well as full-body workouts.
Women Workout at Home
This application especially for women to lose their weight easily at home without going Gym or instructor. This application helps women to burn belly fat, tone butt, slim legs, trim waistline, and get in shape. This application for Sweat 7 mins a day to get a perfect body.
30-day Fitness Challenge – Workout app at Home
This application suited to anybody at any time. This app is 30 days challenge exercise, designed by a professional fitness coach, this is scientifically proven to help improve body and health. This application can automatically sync burned calorie data on Google Fit.30 Day Fit Challenge Workout increases exercise step by step, so you can easily do daily workouts. Don't need to go anywhere for a workout, just use your anger and take a few minutes in a day.
FitOn – Free Fitness Workouts Plans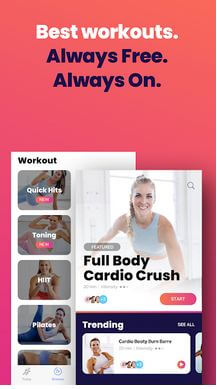 This application is used to lose weight & get fit anytime, anywhere with self exercise without any pay. Achieve your health and body fitness goals with unlimited access to the best body fitness classes. You can design yourself your fitness plan and do all exercises daily step by step and maintain your body as per your choice.
Lose Weight at Home in 30 days – Gym Workout App
This application can be used to Lose Weight in 30 Days in a fast and safe way. This application also provides systematic workouts using proper diet plans at your disposal. It is also scientifically proved to improve your fitness plan and body. This app provides exercise With animations and video guidance.
7 Minute Workout
This app can be developed for busy people to do a workout with is the app in a day only 7 min. No tools, no instructor, no coach but build your muscles and tone your body at home. Try in this app aerobic routines provided by Home exercise for Men – Bodybuilding Application to tone and increases strengthen your body and get six pack abs at home without using any equipment. This app provides a daily workout for different muscle groups designed into 21 levels for each body part.
Best Abs Workout App – Six Pack in 30 Days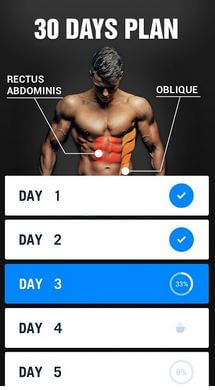 Want to lose your belly fat and make six-pack abs? so start this app for sculpting your abs with this super effective application. All Workouts are suitable and effective for all levels of body, and you can easily do them at home or anywhere, anytime. Just a few minutes in a day to get the cool abs you have been dreaming of! Workout Plan with Different Levels of all bodies. Lose Belly Fat, work Hard Abs and Six Pack Abs – these 3 levels of workout plans help you lose belly fat in daily routing times and build abdominal muscles step by step in 30 days. Whether you are a beginner or a pro, you can find workouts as per your choice.
This application provides the best free fitness/workout at home. You can also plan your workout exercise plan your self in all this app. If you have any questions or thoughts then share with us.