Last Updated on March 7, 2021 by Bestusefultips
Here are the 10 Best Android Wear OS Apps in 2020. Smartwatches come with some of the Wear apps in-built. But the third party Wear OS app is actually responsible for the increasing popularity of smartwatches. Smartwatches are becoming a rage among youngsters. As they have evolved with time, the wearables do a lot more than just displaying notifications. Now, as these devices do much more like tracking your fitness and helping you stay organized, it's time you know some apps to make the most of your smartwatches.
Read Also:
Top 10 Best Android Wear OS Apps in 2020-21
Here we found the list of best Android Wear apps for your smartwatch.
SPOTIFY – Best Music App For Android Wear

Spotify is already a user favorite across the world. After all who doesn't enjoy listening to uninterrupted music. Now, you can have a similar experience without having to hold the phone in your hands. You can change the songs, skim through the libraries, and control the volume with this one of the best Android wear apps. Spotify for Android wearable allows you to search your favorite albums, songs, and artists. You can enjoy a world of new music, videos, and podcasts right from your smartwatch, Tracks for all moods and activities, downloading experience, and active Shuffle mode.
Google Maps
Google Maps is the best Wear OS app for navigation. It is the best navigation app on a smartwatch. It has most of the same features as the smartphone version. That includes directions, local business information, and a lot more. We encourage our readers to exercise the utmost caution while using this app on the road. We have no doubt it'll continue to improve Wear OS.
AccuWeather – Best Wear OS Apps For Android

The app does all of the basics, including current temperature, forecast, radar, weather alerts, and smaller stats like humidity, wind speed, etc. Accuweather is already a popular app. There are high chances you would have come across it at least once. In the app, you just need to mention the location for which you want the weather data. Access to severe weather alerts/warnings and Provides today's detailed temperature information also Live weather updates every minute, weather alerts for 15 days in advance.
Google Keep

Google Keep is one of the trending wear OS apps due to its popularity. It is the best note-taking app for Android wear that people prefer to use on their smartwatches. This app interesting features are you can Access notes anywhere anytime, Easy to create, use and access notes and reminders in easy to read format, convenient connection with Android &iOS, Adds a collaborator to your notes/lists to get things done, you can Add photos/drawings with Amazing dictation feature, search option and you can also add the advantage of colored notes with Voice commands with "OK Google" feature.
Runkeeper
Runkeeper is among the most popular fitness apps. The app keeps track of your running and exercise. You can set goals for weight loss, running pace, and other stuff. It is a good extension of the main service. The full experience does require a subscription, though, and one that we think is a little expensive.
Sleep Smart Alarm App For Android Wear OS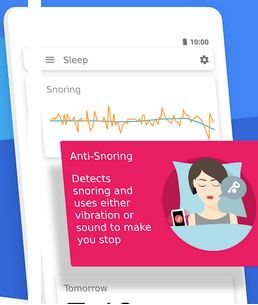 It is definitely one of the best Android wear apps as it has a lot of sleeping functions to offer to its users. This Samsung wearable app will allow you to track your sleep patterns without keeping your smartphone on the bed. This app Interesting Feature is the Lucid dreaming mode feature. Helps you realize you're asleep without waking you up completely, Track disturbances and minor movements in your sleep, Precise sleep cycle tracker along with smart wake up sensors. It app working on Pebble, different Wear OS, Galaxy Gear, Garmin, and Mi Band.
CALM
The secret to a creative mind is sound sleep and meditation. The purpose of the calm app is to make everyone feel refreshed. The Calm app is similar to the breath app for Apple Watch users. Calm is one of the best Android Wear apps in 2020. This app Interesting Features are Users can experience a sense of meditation with the help of relevant sound & pictures, Best to reduce stress & anxiety, Helps to get sound sleep, Track your daily progress, and Ads-free meditation.
Wear OS by Google Smartwatch
Wear OS is the official app from Google. It's required to pair your smartwatch with your smartphone. The app contains stuff like settings for Google Assistant, Google Fit, and some other stuff. The app is a great directory for such things. Google Play does a good job, but this app definitely gets you there faster. Additionally, it can do stuff like take notes, turn your smart lights on or off, and more stuff like that. You can see important messages, track health and fitness, and more, all from your wrist.
IFTTT
Developers won't always know what you need in your apps. They won't know the individual preferences of the users. You can create your own with IF by IFTTT. This "If This Then That" programming lingo will allow you to connect two unrelated apps for creating an action. You can use Facebook for Android wear with the help of if by IFTTT.
Podcast App For Android Wear OS
Podcast Republic app is a few podcast apps on Wear OS. It features a large library of both video and audio podcasts. This app provides an automated download, multiple playlists, syncing support, multiple language support, and SD card support. There is even theming. The Wear OS version of the app isn't quite as robust, but that's okay. It still works pretty well. The free version contains advertising.
If we missed any great Wear OS Apps for Android and If you have any questions please share it with us.