Last Updated on March 7, 2021 by Bestusefultips
There are wearable android apps to help you keep track of all of that stuff. Here we are Show 7 best health and fitness apps for Android wear in 2020. Track your daily routine activity and fitness level on your Android wear smartwatches. Also, track your daily workout, calculate calories you burn, track progress reports, practice various fitness exercises with pictures, health & nutrition tips, and other fitness tricks. These android wear apps are perfect for tracking your daily routine activities and get useful health & nutrition tips.
Most of the smartwatch manufacturers pre-install their own fitness apps on their devices but there are some cool third-party offerings on the Google Play Store. After the great success that Android has had on smartphones and tablets, Google decided to enter the budding smartwatch market with its Android Wear platform. While the success of the platform is still under debate, there are already many apps available on the platform. Apart from bringing you notifications right to your wrist, smartwatches have another great use, that is health and fitness details.
Read Also:
Top 7 Best Fitness Apps For Android Wear Smartwatches

There are wearable Android apps to help you keep track of all of that stuff. Check out below given list.
Runtastic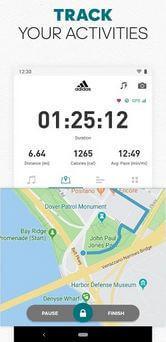 Runtastic uses GPS to track your walks and runs along with distance, duration, elevation, cycling, walking, and jogging. It also calculates the calories you burned through workouts and assists with personal trainer exercise targets. The app comes with an easy navigational interface, which lets you easily swipe through the options and enter functions quickly.
Endomondo – Running & Walking
Considering it has been a popular fitness app even before the arrival of smartwatches and Android Wear. The developers have made sure to support Android Wear and that makes it even better because you now have the rich features of the app right on your wrist. Endomondo packs a long list of great features. The health and fitness app tracks your fitness data, from an outdoor workout or indoor. The app also works great with heart rate monitors to bring you your heart rate data monitoring.
Strava Best Android Wear Fitness Apps 2020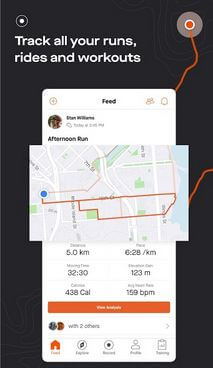 Strava Running and Cycling app is among the most popular and highly rated health and fitness apps on the Play Store and with Android Wear support, it gets better. The app has the ability to use your smartwatch's GPS to bring and track your fitness and health data on the go. The Strava app is available for free but you can make an in-app purchase to get the premium version, which brings features like the ability to set goals, immediate performance results, training videos, and more.
Google Fit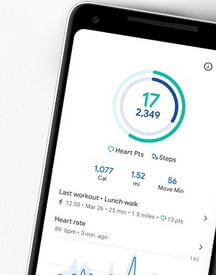 Google launched its own fitness app Google Fit platform alongside Android Wear last year and since being a Google app, it works very smoothly on Android Wear devices. You can use Google Fit by pairing your smartwatch to your Android smartphone or tablet or you can even use it as a standalone app on your Android Wear smartwatch. The best thing about Google Fit is it lets you integrate data from your third-party fitness apps as well, resulting in all your health data on one screen, which is pretty cool. As with all the Google apps, Google Fit is available for free on the Play Store.
 Pill Reminder & Medication Fitness Tracker App For Android Wear

MediSafe Meds & Pills Reminder app is pretty self-explanatory with its name itself but there are some notable features in the app, which make it a must-have for fitness and health app users. Along with reminding you, the MediSafe app is a great medication manager as well, and thank Android Wear, you won't need your phone for those reminders. Along with medication reminders, the app also tracks your measurements, medication progress reports, and more. The app brings reminders and notifications directly to your Android wearable.
Cardiograph
As the name suggests, Cardiograph is aimed at people who want their heart rate data on the goo right to their wrist. The app has been specifically designed with Android Wear smartwatches in mind, as it lets you measure and track heart rate data from your wearable, although your smartwatch should pack a heart rate sensor for that. On a smartphone, the app uses the built-in camera or the heart rate sensor (if it's there) to measure your heart rate.
Exercise Tracker
Exercise Tracker automatically tracks your activities, counts repetitions, and records of all your workouts alongside calculating calories burned by specific exercises. Even the manual "workout log and fitness journal" feature works perfectly without Android Wear and helps you maintain a diary of your workout exercise app. Exercise Tracker also includes a stopwatch to set times for your workout sessions time. The app consists of the weight-lifting tracker, HIIT workout tracker, TRX training journal, and cardio workout tracker.
Above you can see the top-rated free android wear fitness apps to track your fitness activity and progress report. Which is your favorite android wear app for fitness tracking? Share with us in the comment box.