Last Updated on March 7, 2021 by Bestusefultips
WhatsApp added a new feature for group admins to stop members from sending messages in WhatsApp on Android or iPhone devices. WhatsApp group admins have already permission to choose who can change the group's subject, icon & description. Also, edit or delete WhatsApp group admin. But in this tutorial, I'll show you how to set only admins can send messages in WhatsApp group in your Android devices. When you choose only admins to send messages to this group, all other WhatsApp group participants can't send messages to the group.
Do you think this WhatsApp group admin feature is essential? Now Whatsapp gives more settings that only change by group admins. Follow the below-given step by step process to see how to stop someone from sending messages on WhatsApp group on your Android devices.
Read Also:
WhatsApp Group Admins Restrict Sending Messages Android Phone
Make sure the WhatsApp app updated to the latest version in your device. You can check any update is available or not in your android device using below settings.
Play store > Three horizontal lines at upper left corner > My apps & games > Update all
Now, update apps if available WhatsApp app update. After updated apps, follow the below-given settings to see how WhatsApp group admins restrict members from sending messages to the group in Android phones.
Step 1: Open the WhatsApp app in your Android device.
Step 2: Tap Any Group you want to restrict sending a message to a group.
Step 3: Tap Three vertical dots at the upper right side corner.
Step 4: Select Group info.
Step 5: Tap Group settings.
Here you can see edit group info, send messages, and edit group admins settings in your android devices.
Step 6: Tap Send messages.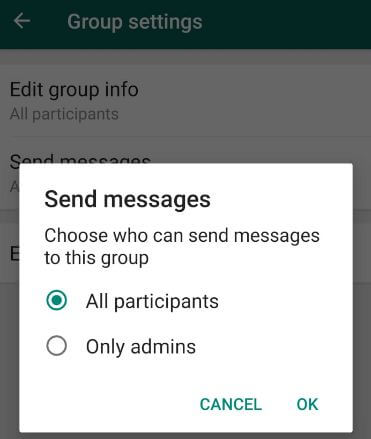 By default selected All participants. So all group members can send messages to the group.
Step 7: Choose Only Admins and Tap OK.
Now only WhatsApp Group admins send messages to this particular group. All other group members can't send messages to the group.
How to Add More Admins to WhatsApp Android

WhatsApp group admins can only edit or delete admins in your android or iPhone devices.
WhatsApp app > Tap any Group > Three vertical dots or tap group name > Group settings > Edit group admins > Tick mark participants you want to make admin
And that's all. Do you still have a question about how WhatsApp group admins restrict sending messages? Tell us in below comment box. Don't miss out to check our other Whatsapp tricks.