Last Updated on August 2, 2022 by Bestusefultips
Do you have Google Pixel 6 series phone? Here, I can teach your how to use magic eraser on Google Pixel 6a/Pixel 6 Pro/Pixel 6/Pixel 5/Pixel 5a and other supported Pixels. The pixel eraser feature is helpful to remove unwanted objects (Things, People) or make a distraction in photos disappear. You can find a magic eraser in the Google photos app on your Google Pixel devices. Also, get a magic eraser on non-Pixel Android devices using APK files.
Does Google Pixel 6a have Magic Eraser?
Yes, you can see a magic eraser in your Google photos app.
How to Use Magic Eraser on Pixel
Follow the below-given steps to see where is magic eraser on Pixel 6a (Android 12) device.
Step 1: Swipe up from the home screen to access the App drawer on your Pixel device.
Step 2: Tap on Google photos.
Step 3: Select the Photo you want to remove objects. 
Step 4: Tap on Edit at the bottom toolbar.
Step 5: Swipe right in the toolbar until you select Tools and tap on Magic eraser.
Step 6: Circle or Brush the object you want to remove.
Step 7: Tap on Done at the bottom right corner.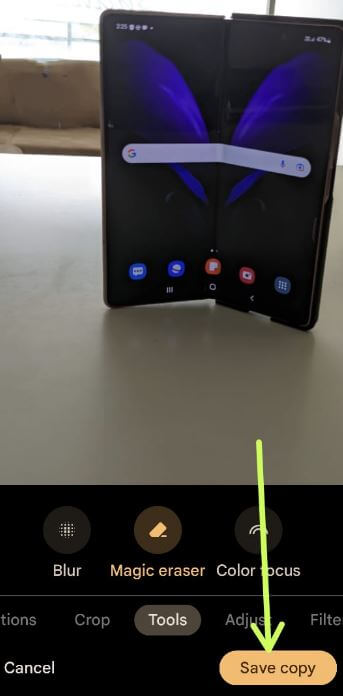 Step 8: Tap on Save copy.
You can see the removed object from the photo in your Google Pixels.
Read Also:
How to Get Google Magic Eraser on Any Android Phone – Non-Pixels
Step 1: Download Split APKs Installer (SAI) from the Google Play Store.
Step 2: Download the Google Photos APK file.
Step 3: Open the SAI, tap on Install APKs and select a system file. Allow all permission to access the file. 
Step 4: Open the Google Photos .apks file on your Android (Non-Pixel) devices. 
Step 5: Tap on Install and follow the instructions until you install the app. 
Now, you can use Pixel eraser on your Android phones and tablets.
Step 6: Open Google Photos > Select the photo > Edit button > Tools > Magic eraser.
Frequently Asked Question:
How to Find Magic Eraser on Google Pixel 6 Pro?
To find the magic eraser on Pixel 6 Pro, open the Google photos app > Select any Photo > Tap on Edit at the bottom > Swipe right until view Tools > Magic eraser.
Can't Find Magic Eraser Pixel 6?
Make sure the Google photo app is updated (Play store > Profile icon at the top right corner > Manage apps & device > See details > Update all) with the latest version. Also, check for system update (Settings > System > System update > Check for update) or try clearing app cache for Google photo app (Settings > Apps > See all apps > Photos > Storage & cache > Clear cache).       
And that's all. Do you like this new Pixel magic eraser feature? Tell us in below comment section. Stay and connect with us for the latest Pixel updates.