Last Updated on October 12, 2023 by Bestusefultips
Do you want to use two apps on a single screen in your Pixel 8 series? I'll teach you how to split screen on Google Pixel 8 & Pixel 8 Pro in this tutorial. The best feature for multitasking or working on two different tasks like chatting on social media and watching YouTube videos or listening to music simultaneously.
One feature I missed on the Pixel device is Samsung's Dual Messenger and Clone apps on OnePlus devices. This feature is helpful to use two WhatsApp/Instagram/Facebook accounts on your phone.
Also Read | How to Enable One-Handed Mode on Google Pixel
What is Split Screen Mode?
The split screen mode helps access two apps simultaneously on a single screen on your Google Pixel device. Both apps open side by side. You don't have to switch between apps to use them. 
How to Use Split Screen on Your Google Pixel 8 and Pixel 8 Pro
Swipe up and hold to view recent apps on your Pixel 8 series.
Tap the App icon at the top.
Tap the Split screen.
The first app opens on the top of the screen.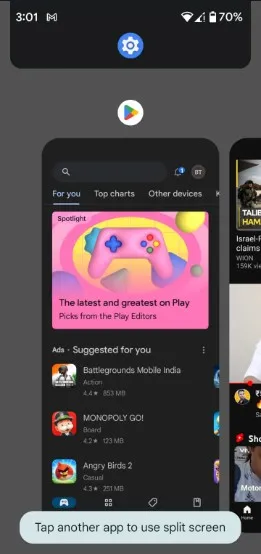 Tap another app to use split screen multitasking mode.
You can use two applications on the same screen on your Google Pixel devices.
Adjust Screen Size (Windows Size) on Google Pixel
You can increase or decrease the screen size you want on your device. 
Long-press the middle line that divides the two apps and move it up or down to adjust the size.
Close or Exit Split Screen on Google Pixel
Tap and hold the central line between apps and move it to the top or bottom of your screen to close the split screen view on your Pixel devices.
That's all. We hope this clarifies how to use split screen view on your Google Pixel devices. 
Read More: