Last Updated on March 17, 2021 by Bestusefultips
You can reset network settings on Android 11 using system settings. Resetting network will delete all network settings including WiFi networks, cellular data, Bluetooth paired, and other network related settings. To fix the Wi-Fi connection, Bluetooth can't pair, mobile data not working, and other network issues, you need to try resetting all network settings in your stock Android 11 OS.
Read Also:
How to Reset Network Settings on Android 11
Step 1: Swipe down the notification panel from the top and tap on the "Settings" icon.
Step 2: Scroll down and tap the System.
Step 3: Tap on Advanced.
Step 4: Tap the Reset options.
Step 5: Tap Reset Wi-Fi, mobile & Bluetooth.
This will reset all network settings, including Wi-Fi, Mobile Data, and Bluetooth. By default check the box of Erase downloaded SIMs. Uncheck the box if you want.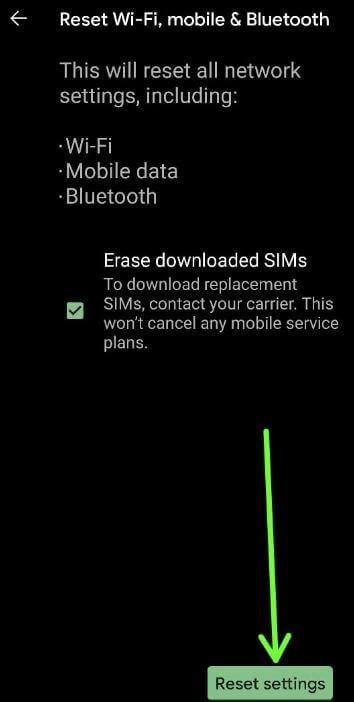 Step 6: Tap on Reset settings at the bottom right corner.
Step 7: Confirm your screen lock.
Step 8: Tap the Reset settings at the bottom right corner.
How to Turn On WiFi Automatically on Android 11
It will automatically turn on high quality saved WiFi network near you like a home or office network.
Step 1: Go to Settings.
Step 2: Tap the Network & internet.
Step 3: Tap Wi-Fi.
Step 4: Tap the Wi-Fi preference.
Step 5: Toggle on Turn on Wi-Fi automatically.
That's it. Have you ever needed to reset network settings on your Android or Samsung Galaxy? Tell us in below comment box. Stay and connect with us for the latest updates.