Last Updated on December 6, 2023 by Bestusefultips
Here's how to check screen time on Pixel 8, Pixel 8 Pro, Pixel 7 Pro, and other Pixel devices (Running Android 14). Using this Google Pixel's Digital Wellbeing feature, you can check how much time you spend on specific apps, how many notifications you receive, and how many times you open an individual app. Also, set an app timer to stop typical app usage in your Google Pixel devices. Let's see the steps to check screen time Pixel 7 and Pixel 8 series. 
Also Read | How to Record Screen in Google Pixel
How to Check Screen Time in Your Pixel 8, Pixel 8 Pro, Pixel 7 Pro, Pixel 7
Swipe down the notification panel twice from the top and tap the Settings gear icon at the bottom right corner.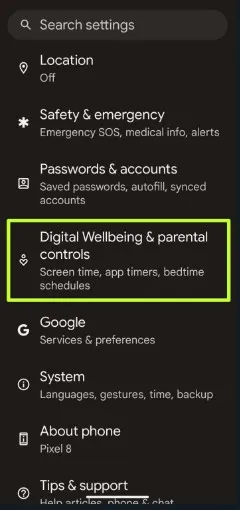 Scroll down and tap Digital Wellbeing & Parental Controls.
Tap the Dashboard. 
You can see the list of apps usage screen time on your Pixel device.
Tap the App (WhatsApp) you want to view the details.
Tap the drop-down menu and choose the option if you want to see details of Screen time, Notifications received, or Times opened. Also, check screen time for daily or hourly. You can see the app timer and manage notifications settings. It is easy to check the time spent on specific apps on your Google Pixel device using Digital Wellbeing settings.
Check Pixel 8 Screen Time using Apps
Settings > Apps > Screen time.
How to Set Screen Timer for App in Google Pixel
Note: You can't set an app timer for system apps. 
Go to Settings > Digital Wellbeing & Parental Controls.
Tap the Dashboard.
Scroll to the end and tap See all apps to view all apps.
Tap the Timer icon of the app.
Set the time you want to stop using a specific app and tap OK.
When your timer ran out, that app paused in your Pixel. You can't access it until finish the app timer or delete the timer on your phone.
Delete App Timer on Your Google Pixel
Open the App drawer > Tap the App you want to remove the timer > Settings > Tap Trash icon to app timer delete.
And that's all. Do you use the Digital Wellbeing feature on your Google Pixel device? Tell us in the comment section below.
Read More: