Last Updated on March 7, 2021 by Bestusefultips
Here's how to change home screen settings in Android Pie 9.0. In android P 9.0 home screen settings, you can see Notification dots, At a glance, add the new app icon to the home screen, see Google news app, a suggestion for overview & all apps list, home screen rotation and change app icon shape in Android Pie 9.0. Android Pie added new features such as Navigation gestures, Adaptive Battery, Adaptive brightness, App timer, Dashboard, Wind down, stand by apps, lockdown and more features.
Read Also:
How to Change Home Screen Settings in Android 9 Pie

You can customize home screen settings in Android Pie 9.0 using below given settings in all Pixel devices.
Step 1: Long press on the blank space in your Android Pie 9.0 device.
Here you can see home settings, Widgets, and Wallpapers settings.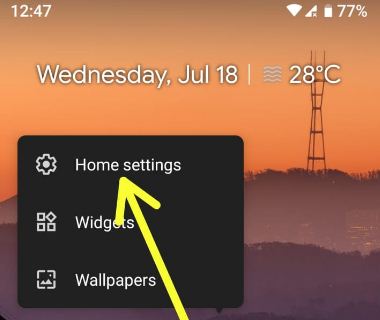 Step 2: Tap Home settings.
You can see the below-given Android 9 home screen settings.
Enable/Disable Notification dots
By default turn on notification dots in your android P 9.0. When you receive any notification in your device, you'll see dot icon on that app. If you want to show notification dots, disable it in your device.
At a Glance – New Feature

Appear information at the top of your screens such as next upcoming meeting or event alert, flight information, traffic alerts, and more. Individually enable/disable settings you want to set.
Add New App icon to the home screen
By default enable add the app icon to the home screen in your android Pie or other devices. So when installing new apps from the play store, you can see app shortcut in the Android 9.0 home screen. If you want to hide app shortcut from the home screen, turn off the add app icon.
Show Google News

Swipe screen left to the right side to open Google news app or Google feed in Android Pie 9.0. Here you can see your favorite topics like galaxy Note series, Android P, Google, Cricket, iPhone, Windows device, Google Assistant, and other following pages. If you don't want to show this latest updates of your favorite topics, toggle off display Google app.
Read More: How to customize Google feed in android Nougat, Oreo
Suggestions
You can see "Apps" and new Android Pie "Apps Action" features. You can see the most recently used apps list in your Android 9 Pie app drawer top of the apps list. The app actions feature is helpful to show the most used data on app drawers in your Android 9.0.
Enable Home Screen Rotation
Enable Android Pie home screen rotation to rotate the screen when your phone is rotated.
Change App Icon Shape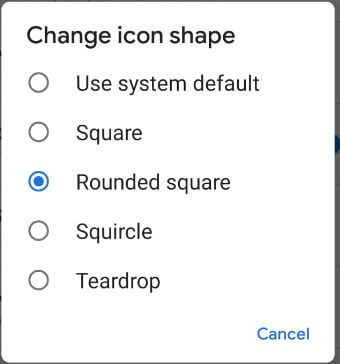 By default use system icon shape in Android Pie 9.0 devices. Choose from Square/Rounded square/Squircle/Teardrop to change shape in Android 9.0 devices
And that's all. We hope this makes it clear how to change home screen settings in Android Pie 9.0. If you have any questions, tell us in below comment box. What would you like to see in the Android Pie home screen?