Last Updated on March 7, 2021 by Bestusefultips
Want to block unknown numbers from texting and incoming calls on Android 9 Pie? Here's how to block a private number on android 9 Pie devices. In the latest Android 10 devices, you need to toggle on the "unknown" under the phone app settings to block calls from unidentified callers. Individually block spam calls and numbers on android 9 Pie devices such as Google Pixel, Pixel 2 XL and upcoming Pixel 3 and Pixel 3 XL. You can block a number on the android phones under phone app settings.
When you block a phone number on android Pie 9, you won't receive texts or calls from blocked numbers in your android device. According to XDA developers, Google removes call recording from android 9 Pie with third-party apps. Follow the below-given step by step process to block a number on Android Pie 9.
Read Also:
How to Block Unknown Numbers Android 9 Pie
Annoying by the unknown number on your android 9 Pie or another device, you can block a phone number on android Pie 9 and other android devices using below given settings.
Step 1: Open the phone app in your android Pie 9.0.
Step 2: Tap Three vertical dots (Menu) at the upper right corner.
Step 3: Select settings.
Here you can see android Pie phone call settings like sounds & vibration, calls, blocked numbers, voicemail, caller ID & spam and more.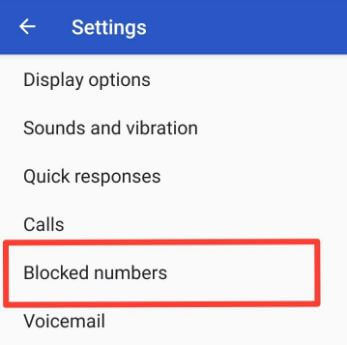 Step 4: Tap blocked numbers.
Step 5: Tap Add a number.
Step 6: Enter the phone number you want to block calls and texts.
Step 7: Tap Block.
Now you can see that mobile number added to the block list.
How to unblock a number on Android Pie 9.0
If unintentionally blocked unknown mobile number, you'll unblock the number in your android 9 Pie using the below-given setting.
Phone app > Menu > Settings > blocked numbers > Tap Cross icon of number you want to unblock > unblock
Block Unknown Numbers on Android 10
Phone app > Menu > Settings > blocked numbers > Toggle on "Unknown" 
And that's all. I hope these solutions worked for you to block a number on Android Pie 9. If you have any other ideas, you can share it with us in the comments. What are your favorite features of the Android 9 Pie?