Last Updated on March 7, 2021 by Bestusefultips
Today's Best Android smartphones pack cameras that rival even the DSLRs. Had its own Android device but still want to enjoy and create slow-motion videos, here are some of the best slow motion apps for Android in 2020. One of the most important and trending features of a smartphone camera is the ability to record slow-motion videos. Not only the slow-motion videos have had had they also provided an extra layer of creativity. Slow-motion effects can make a corporal video really fun to watch and provide a completely different video viewing experience.
Using these android apps for slow-motion video, you can record video with lowest or highest speed, manage video resolution, control video frame rate, color effect, and more. You can also share videos with your friends or family on social media sites such as Instagram, WhatsApp, YouTube, etc. Here are the best slow-motion video maker apps for Android.
Read Also:
Best Android Apps For Slow Motion Video
Check out below given top best slow motion apps for your Android phone or tablet devices.
Video Editor & Video Maker – InShot

Slow Motion Camera is one of the favorite slow motion video apps for everyone on this list for two reasons: A creative and well-designed interface and lots of interesting features. First of all, you can create slow-motion videos either by shooting a live camera video or importing a video from the gallery. This application provides crop, trim, rotate, change audio, apply effects, and a lot of other services to create and edit slow-motion video.
Video shop – Video Editor App – Best Slow Motion Video Apps For Android

Video Shop and Editor is one of the best slow-motion video editing apps for android. In this application, you can shoot video using a camera or you can edit already shouted video using the gallery. You can use other features like trimming, add color, effects, add music, etc. One feature of the app which we are going to focus on in this application is the ability to apply slow-motion effects to any video. The best part about using Video shop is that you can select a part of a clip where you want to apply the slow-motion effect.
Video Speed Changer: SlowMo FastMo
This application title suggests changing the speed of the video. In this app, you can change video in slow motion or fast motion. You can also edit and create a new video in slow motion and you can add different effects, sounds, and images with animations. You can either shoot a video directly from the application in slow motion mode or convert existing videos on your smartphone at variable slow motion rates. So if you want a feature-rich yet simple slow-motion video app then go with Video Speed changer.
Slow Motion Video Zoom Player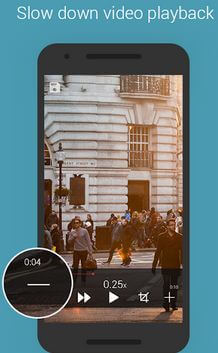 While this application name is a mouthful, it does bring a lot of features to the app. For example, you can play a specific range of video files at a reduced speed and we can also increase the playback speed. The good part of this app, even the audio syncs with the slow-motion video so it gives a sensation of time slow down. Further, you can export the videos in multiple resolutions from low to high quality into your gallery. In addition, the application has support zooming into videos that are kind of unique so that is great. Not to mention, there is a video to GIF converter, support for Picture-in-Picture (PiP) mode, reverse and fast playback, and more.
Slow-Motion Video FX
It will use to make fast or slow-motion videos on your android device and share it with social media sites such as Instagram or YouTube and more. You can record any video & set speech slow or fast and set video quality. When complete the video record it will look funny.
Slow-Motion Frame Video Player App
This is best to play HD videos, control video frame rate, set color effect, and audio pitch. Its media hardware acceleration consumes low CPU power and the best battery saver. Also manage, sort, and share videos with others.
In this, we can provide great Slow-motion supported and making video Android apps. If you have any questions please share it with us.