Last Updated on March 7, 2021 by Bestusefultips
Annoying by forgotten screen lock PIN or Password of OnePlus 7 Pro? Here's how to bypass screen lock on OnePlus 7 Pro and OnePlus 7 using recovery mode. This remove password or pattern method will remove all your personal data including photos, videos, Google account, lock screen password, and other data. Make sure back up & restore your data before performing this.
You can factory reset or hard reset using hardware key also to remove OnePlus 7 Pro forgot the pattern, PIN, or Password. After performing this action, you can see restore default settings in your OnePlus devices. Follow the below-given step by step process to unlock OnePlus 7 if forgot screen lock.
Read Also:
How to Reset Lock Screen in OnePlus 7 Pro If Forgot Pattern, Password, or PIN
Step 1: Make sure to Power off your phone.
Step 2: Press & hold the power and volume down key at the same time until seeing the OnePlus logo, release buttons.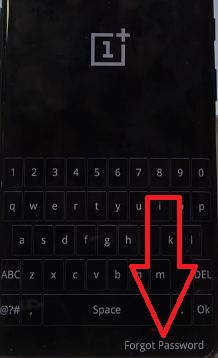 Step 3: Tap Forgot Password at the bottom right corner.
This message appears on the screen: You will lose everything (Music, Pic, etc)
Step 4: Tap OK if you want to remove otherwise tap on NO.
Step 5: Tap OK to confirm.
Wait until complete the process. It will remove all phone settings, Passwords, PINs, and other lock screen security.
Step 6: Now, set a new lock screen password when you're OnePlus turn on.
Factory Reset OnePlus 7 Pro using Hardware Key to remove screen lock password
Step 1: Switch off your OnePlus 7 Pro to the long press power button and tap the Power.
Step 2: Press and hold the volume up and power button at the same time until seeing the OnePlus logo on the screen.
Step 3: You will see Recovery mode in your device.
Step 4: Tap on Advanced.
You can see Reset system settings, Wipe cache, and Erase everything options.
Step 5: Tap Erase everything (Music, Picture, etc).
Wait until the complete reboot process. Now all your phone settings set as factory default settings.
And that's all. Do you still have any questions regarding this tutorial? Tell us in below comment box. Stay and connect with us for the latest updates.