Last Updated on March 7, 2021 by Bestusefultips
Several users reported contacts sync issue on Android Oreo 8.0. Are you trouble with this can't sync contact issues? Most of all contacts and other details automatically sync using your Google account you added in your Android devices when the first time set up. You can easily sync contacts, app data, Gmail, Chrome, and other data if turned on automatically sync data in your Android Oreo devices. Also, facing can't sync Google contact issues. When enabling auto-sync, it will be consuming more data and sometimes battery drain issue also.
Read Also:
How to Fix Contacts Sync Problem on Android Oreo 8.1/8.0
Turn Auto-sync Off and ON
Apps will refresh data automatically when you turn off and on auto-sync.
Settings > Account > Toggle off Automatically sync data > Toggle on Automatically sync data
Clear Cache of Contact Storage
Step 1: Go to Settings in your Oreo devices.
Step 2: Tap on Apps & notifications.
In the latest Android 8.1 Oreo devices (In Android 8.0, tap on App info), you can see Recently opened apps settings.
In recently opened apps, you can see recently used the last five apps. If not view app in the list, tap on See all apps.
Step 3: Tap on Three vertical dots on the top right corner.
Step 4: Tap on Show system.
Step 5: Find the Contact storage and tap on it,
Step 6: Select Storage.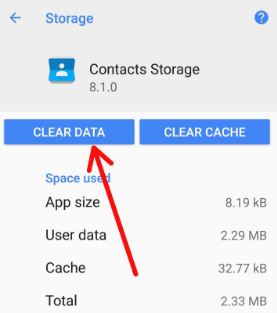 Step 7: Tap on Clear data to fix contacts Sync issue on Android phone.
You'll see this message on screen: Delete app data?
Step 8: Tap on OK.
It will permanently delete all of these contacts app data including settings, accounts, database, and all other app-related files in your Android Oreo device.
And that's it. I hope this tutorial helpful to fix contacts Sync problem on android Oreo. Do you have any alternative methods to fix this issue? Share it with us in below comment box. Let us know in the below comment box if you have any kind of trouble. Don't forget to check out our other Android Oreo tips and tricks.