Last Updated on March 7, 2021 by Bestusefultips
Here's how to set or change earphone types on OnePlus 6 Oxygen OS. By default set OnePlus 6 earphone types as a general enhancement. You'll change OnePlus 6 earphone settings using Audio tuner settings under sound and vibration settings. In OnePlus 6 earphone types, you'll choose from OnePlus bullets or OnePlus bullets (V2) or OnePlus icons or Feat. JBL E1+.
OnePlus 6 has several awesome features including super-fast face unlock, navigation gestures, recording phone calls, show or hide Notch, Earphone, DND and more settings. But in this tutorial, I'll show you how to step by step process to change Earphone types on OnePlus 6.
Read Also:
How to Set Earphone Types on OnePlus 6 Oxygen OS
First of all, enable audio switch in OnePlus 6 to set headphone mode or earphone types using the below-given setting.
Step 1: Swipe down the notification panel and tap the Settings gear icon.
Step 2: Tap Sound & vibration.
Step 3: Tap Audio tuner under the Earphone section.
By default disable audio switch in your device.
Step 4: Turn on the Audio switch toggle button to set earphone types.
Step 5: Now tap Earphone type.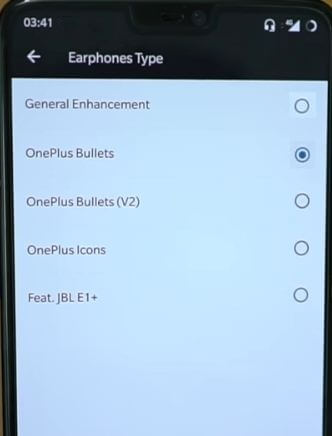 Step 6: Choose from OnePlus bullets / OnePlus bullets (V2) / OnePlus icons / Feat.JBL E1+
You'll also "set equalizer settings" in OnePlus 6 using the above settings. Also set preset (Pop, Jazz, Blues, Rock & Roll, etc.) to enjoy music using OnePlus bullet wireless headphones in India and other countries.
OnePlus 6 Earphone mode settings
You can change Earphone mode settings using the below settings.
Settings > Sound & vibration > Earphone > Earphone mode
Enable autoplay to automatically resume music playback when connecting earphones or headphones. Also, turn on call information broadcast to broadcast the call information via earphones and change notification ringtone in earphones on OnePlus 6 Oreo 8.1 and 9 Pie devices.
Use Audio Tuner OnePlus 6T
Step 1: Go to settings in your OnePlus 6T/6.
Step 2: Tap on Sounds.
Step 3: Tap on the Audio tuner under the earphone section.
Step 4: Make sure toggle on the Audio switch.
We hope this makes it clear how to change Earphone types on OnePlus 6 Oxygen OS. If you have any kind of trouble or any other important audio tuner settings we missed above and you know, tell us in below comment box. Stay connects with us for latest OnePlus 6 updates.