Last Updated on March 7, 2021 by Bestusefultips
Want to hide status bar icons on Pixel 2 and Pixel 2 XL? Here's a complete guide to remove Google Pixel 2 status bar icons. You'll add or hide status bar icons using system UI tuner settings on your Pixel devices. By default system UI tuner feature is hidden on your Google Pixel 2 & 2 XL (Oreo). Let see steps to enable hidden system UI tuner on Pixel 2 XL. In your Google Pixel 2 and other Pixel devices, you can see the battery icon, time, Wi-Fi, or mobile data when turning on and more. Also, add other Pixel 2 icons such as Alarm, Hotspot, DND, location, Ethernet, etc.
Read Also:
How to Add or Remove Google Pixel 2 Status Bar Icons
First of all, make sure to enable system UI tuner in your Google Pixel 2 and Pixel 2 XL Oreo 8.1 & 8.0 devices. You'll enable it using below steps:
Step 1: Swipe down the notification panel from the top of the screen in your Pixel 2.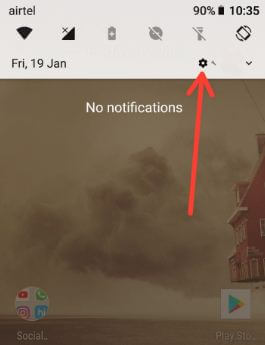 Step 2: Tap & hold on the Settings gear icon a few seconds.
You can see this message: Congrats! System UI tuner has been added to settings
If not enable system UI tuner then first of all make sure to enable developer mode in Pixel 2 device using below settings.
Settings > System > About Phone > Tap build number 7 times
Step 3: After enabling developer mode, again follow step 1 and step 2.
Now go to Settings > System > System UI tuner
Here you can see the status bar and Do Not Disturb settings.
Step 4: Tap on the Status bar.
Here you'll see many options such as Auto-rotate screen, headset, work profile, cast, hotspot, Bluetooth, Do not Disturb, Aeroplane mode, Alarm, Battery, and more. Adjust Pixel 2 icons on the status bar you want to see on screen.
Enable option you want to show icons on the status bar and disable the toggle button to hide or remove Google Pixel 2 status bar icons.
If you want to disable all options, all Pixel 2 icons remove from the status bar (Show above screenshot).
And that's it. I hope this tutorial helpful to remove Google Pixel 2 status bar icons. Do you find this information helpful? Share your thought with us in below comment section. Don't forget to check out our other handy Pixel 2 tips.