Last Updated on April 18, 2023 by Bestusefultips
This message appears on my Google Pixel 6a screen: Wallpaper & style keep stopping. I have recently updated my Google Pixel 6a device to an Android 14 Beta 1 update. I want to change my wallpaper but can't access the wallpaper and style app settings on my Google Pixel devices. To fix this wallpaper and style not working issue, you need to clear the cache and data for the Pixel launcher using app settings. After clearing the storage Pixel launcher, you can access Wallpaper and style settings. 
This Google Pixel wallpaper and style includes a dark theme, themed icons, material UI theme bases color that will help change the Pixel wallpaper, lock screen clock color, and app grid.
Read More: How to Remove Google Search Bar from Home Screen on Google Pixel using Nova Launcher
How to Fix Wallpaper and Style App Keeps Crashing on Google Pixel running Android 14 Beta 1
Clear the Pixel launcher data using the settings below to fix Wallpaper and style crashing issues on your Google Pixel.
How to Clear Storage (Data) Pixel Launcher on Pixel 7 Pro, 7, 6 Pro, 6, 6a, 5, 5a 5G
Step 1: Go to Settings.
Step 2: Tap the Apps.
Step 3: Tap See all apps.
Step 4: Scroll down and tap Pixel launcher.
Step 5: Tap Storage and Cache.
Step 6: Tap Clear storage.
This pop-up message appears on the screen: Delete app data?
Step 7: Tap Delete.
It will delete all your Pixel launcher (Home launcher) settings from your Google Pixel device, like home screen layout, grid size, delete app data, files, and settings will be permanently deleted from your Pixel.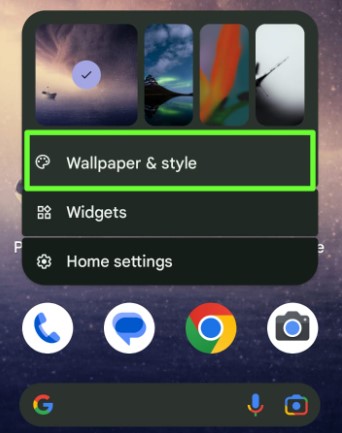 Step 8: Long-press the blank space on the home screen to access the Wallpaper & style.
If you enable themed icons on your Pixel, you can't open the wallpaper and style settings again on your device.
And that's it. Have you faced this wallpaper and style keep crashing on your Google Pixel running Android 14 Beta 1? Tell us in below comment section.
FAQs:
How do I Change the Pixel 7 Wallpaper?
To change the wallpaper on Google Pixel 7 and Pixel 7 Pro, long-press the blank space on the home screen and tap Wallpaper & Style. Tap Change wallpaper and select a picture on your phone gallery or default category wallpaper. Tap Set wallpaper at the top right corner and choose from the home screen, lock screen, or home and lock screen.  
Read More: