Last Updated on March 7, 2021 by Bestusefultips
Here's how to enable and use Picture-in-picture in Google Duo Android devices. This Google Duo app is a high-quality video calling app with more flexible and compatible with most of all the latest Android phones and iOS devices. Also, chat with your friends using this Google Duo app. Your calls are encrypted so only you and caller people read or listen to your chats. Within a few days, WhatsApp supported Picture-in-picture modes.
By default PIP mode available on YouTube, Google Chrome, Google Play Movies & TV, Google Play services, WhatsApp, and Maps. Other best Android features are Notification dots, background process limits, adaptive icons, keyboard navigation, snoozing individual notifications, and more. Let see steps to turn on Picture-in-picture mode in Google Duo Android (8.0 Oreo).
Read Also:
How To Use Picture-in-picture mode In Google Duo An Android
Step 1: Open the Google Duo app in your stock Android.
Step 2: Tap Contact wants to video call.
You will see a small round icon video calling screen on the Google Duo app.
Step 3: Now press the Home button.
You will see a small rectangle screen on the screen.
Now tap on the back button and chat with your friends or family member on WhatsApp or Instagram or other apps you like. But remember Google Duo Video calling is running now. You can use two apps at the same time in your Android (8.0 Oreo) while PIP mode use. Also, see a notification on-screen of Duo is in picture-in-picture mode.
To check which apps supported PIP mode in the stock Android devices, follow the below settings in your devices.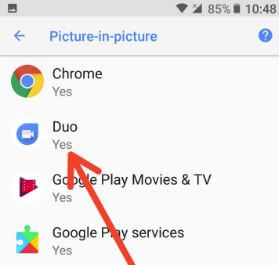 Settings > Apps & notifications > Advanced > Special app access > Picture-in-picture mode
And that's all. I hope you will enjoy this Google Duo Picture-in-picture mode on Android (Oreo 8.0) devices. If you have any kind of trouble, tell us in below comment box. Don't miss our single Android tips and tricks.