Last Updated on March 7, 2021 by Bestusefultips
Several Google forums & Reddit users reported swipe issues in Google Pixel after Android 8.1 updates. Before this update issue, Google Pixel phone slow down issue occurs also. Many Google Pixel and Nexus users swipe the lock screen and enter the password to unlock the screen, but after 3-4 tries the device unlocked.
Have you been ever facing this type of scrolling issue on Pixel and Nexus devices after an Android 8.1 Oreo update? You can also contact the Google support team and talk with any support specialist. Check out each one listed below given possible solutions to fix swipe issues in Google Pixel after the Android 8.1 update.
Read Also:
How to Fix Swipe Issue in Google Pixel After Android 8.1 Update
Check out the below-given troubleshooting methods to fix the issue.
Restart your Google Pixel Oreo 8.1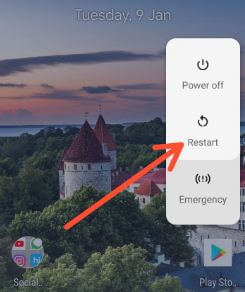 One of the easiest solutions is to restart your android 8.1 device. Tap & hold the power button and select Restart. After restarting your device, check to fix the swipe issue or not.
Check any OTA Update

Several users reported this scrolling problem on Nexus and Pixel devices with the latest Android 8.1 Oreo updates. So check and update your device with Google's next OTA update to fix swipe issues on Google Pixel devices.
Settings > System > System update > Check for update
Hard Reset or Factory Reset Android 8.1
Step 1: Turn off your Google Pixel & Nexus 6P/5X.
Step 2: Press & hold the volume down button and the power button at the same time until the phone vibrates.
You can view the Android recovery screen on your Oreo device. By default start button show on your device.
Step 3: Press the volume down button until view the Recovery mode.
Step 4: Press the power button to restart into recovery mode.
You can see the screen android robot exclamation mark with a red triangle icon on your Google Pixel & Nexus.
Step 5: Press and hold the Power button, and press the Volume Up button once then release the Power button.
Now scroll to wipe data/factory reset, press the power button to select it.
This message view on your Oreo screen: Wipe all user data?
Step 6: To confirm, press the volume down button to scroll to Yes and press the power button to select it.
Clearing the cache may take 2-4 minutes.
Step 7: Press the volume down buttons to scroll to the Reboot system now, press the power button to select it.
And that's it. I hope one of the above-given methods fix the swipe issue in Google Pixel after the Android 8.1 update. Do you have any other tips we missed above? Share with us in below comment box. Don't forget to check out our other Android 8.1 tips.