Last Updated on March 7, 2021 by Bestusefultips
Here's the list of 11 best free stock market apps for Android in 2020. Using these Android stock trading apps, you can get real-time information on stock, finance & investment updates of the market. You can track currencies, commodities, world indices, equities, and get stock quotes also. Also track stacks & Indexes from New York Stock Exchange (NYSE), Dow Jones, Nasdaq, FTSE 100, NIKKEI 225, SENSEX, NIFTY, S&P, CAC 40, KOSPI and more. And useful to track live charts reports of the Financial, economic event, latest quotes of stocks, mutual funds, F&O, and other important news related to stock markets.
Some investors are happy putting their money into a boring fund and letting it simmer for the long term. Stock market apps let you monitor stocks and funds you might own, research new investments before you buy them, and follow news around the companies you invest in. Here are the 11 best Android stock market apps. After reviewing fees, tradable assets, and more across several brokerages.
Read Also:
Top 11 Best Stock Market Apps For Android Phone in 2020

The following are the best stock market apps you can install on your Android device.
Moneycontrol Markets on Mobile
This finance app is best to get the latest updates of Indian and global financial stock markets and financial data. You can track Sensex, Nifty, Mutual funds, commodities, etc. and multiple assets from MCX, BSE, NCDEX, and NSE. Also get financial markets analysis, expert's view, news and live streaming of CNBC-TV18, CNBC AWAAZ, CNBC Prime HD, and other live TV in English, Hindi, and Gujarati languages. You can easily search stocks, mutual funds, indices, news, commodities using the voice search feature. Also view charts with a line, candlestick, area & OHLC and latest stock quotes, F&O, latest price of NIFTY, Sensex, etc.
Stocks, Forex, Finance & News App – Investing
This includes 40000 financial instruments live quotes, real-time global economic calendar, build your own portfolio, track financial instruction, alert on breaking news, extensive coverage of G-10 economies, and more. Also view real-time price quotes of assets & financial markets such as Nikkei 225, Down Jones, S&P, Nasdaq, etc.
Yahoo Finance App
Yahoo has always done an excellent job providing market information to its users. In the early Yahoo days, this meant providing stock market data on their main search website and web page just for users interested in tracking the stock market. Some features of the Yahoo Finance stock market app including are major stock market indexes, Stock market news, search for stocks by symbol, Set up notifications for news on specific stocks and price alerts, you will have access to useful tools like cryptocurrency news, a stock screener tool, and a currency converter. The search feature in Yahoo Finance lets you filter stocks by things like P/E ratio, average volume, 1-year change, and more.
MSN Money – Stock Quotes & News
The best app to track financial data and most of all indexes such as NYSE, S&P 500, Down Jones, Nasdaq, FTSE 100, etc. You can also track currency exchange rates and commodity prices. Add your favorite stocks, ETFs, mutual funds and read the latest news on markets, business, insurance, technology, finance, taxes, and more.
Webull: Best Free Stock Market App
Webull is a technology-centric trading app that is best for stock traders with at least some experience. Webull is almost completely free to use. There are no commissions for any trades on the app, including stocks and ETFs.Cryptocurrencies are new to the platform, but you won't find bonds, mutual funds, or other assets. While Webull is a newer app than most others on this list, it doesn't lack in features for active stock traders. Including Features are Tradable assets Stocks, ETFs, options, and cryptocurrencies, Supports brokerage and IRA accounts, Generous free stock promotions for new users, and for customers who refer others, advanced charting features, and global markets and news and many more.
StockEdge
StockEdge app is India's Top Rated Unbiased Stock Market App for Investors & Short Term Traders. This app is India's best and the fastest growing Stock market app and Mutual Funds analytics & research App, primarily based on NSE & BSE data. Features provided in the app include are Stock Market Updates, Stock Research, Technical Scans, Fundamental Scan, Investment Ideas, Investor Portfolios, Mutual Fund Analytics, Light and dark theme available, and more features available in this app.
Jstock

If you prefer minimalist apps, then JStock is your perfect choice. This app provides well organized stock market information, to help you decide your best investment strategy. Simply tap the + symbol on the My Watchlist page, and use the search field to find your preferred stocks to monitor. Individual stock pages are simple but include tabs that have all of the data you need. You can find stock news, insider trades, feedback from stock analysts, and much more. You can also save your chosen stocks to your own cloud storage account so you can store and load individual stock lists later. This is perfect for real-time stock news & alert, world indices, and stock investment. It supports 36 world stock markets and 10 years history chart of the stock & finance market. In the premium version, you can get an unlimited number of stock news, watch lists, and portfolios.
NetBenefits : Best for Beginners(Fidelity investments)
Fidelity is a top brokerage for beginner investors and anyone with a focus on long-term and retirement investments. Fidelity Investments is the app for Android, iOS, and Amazon devices. This app Key Features are Tradable assets Stocks, ETFs, mutual funds, fractional share investing, and more, Supports brokerage, retirement, education accounts, and more, Intuitive screens to enter trades and track performance, and social media-style feed of custom-tailored account and investment information and many more.
Share Market Trading App For Android

It includes 20 hours of technical analysis videos for stock trading, commodity trading, and Forex trading. This android app is best for the Forex market, share market, commodity market, and other markets. It also includes Forex trading basics, news trading, money management, Fibonacci retrenchment, and much more.
Learn how to invest in stocks
Perfect Android app to learn invests in the U.S stock market. It includes 40 chapters of the stock market such as the basic principle of the stock market, investing money in the stock market, step by step guide of beginners, seminars on investing, financial advice, and more. You can read/listening to all chapters. Also, it contains great advice on stock investing.
US Stock Market App For Android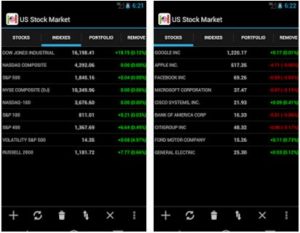 This US stock marker app for android phones is track stocks and indexes from NYSE, Nasdaq, S&P, Dow Jones, and more. You can see quotes for stocks & indices, add, remove, re-order stocks/indices and view charts daily/weekly/monthly/yearly. Also, support news related stocks.
End the list of top best stock market apps for android phones. Do let us know which one stock market app would you prefer first? Feel free to share this article with your friends!