Last Updated on May 12, 2022 by Bestusefultips
If you love gaming and want a fantastic gaming experience on Fire Tv Stick with great control, you should buy a compatible controller. Controllers allow many buttons, sensitive joysticks, an audio jack, microphone, Share button, motion sensing, and a comfortable grip for long playing hours. Do you want to best Game controller for Fire Tv stick 2022?
Don't Miss this:
Best Amazon Fire TV Controller 2022
Here's a list of the Amazon Fire Tv Game controllers deals.
This Alexa-enabled controller directly connects to Amazon's custom game servers via cloud direct thus no need to pair with each device. You even use it to play on other non-amazon devices using Bluetooth – Low-friction thumbsticks, a comfortable textured grip, and wireless gameplay powered by 2 AA batteries. It even has a USB-C port for wired play and audio output for headphones.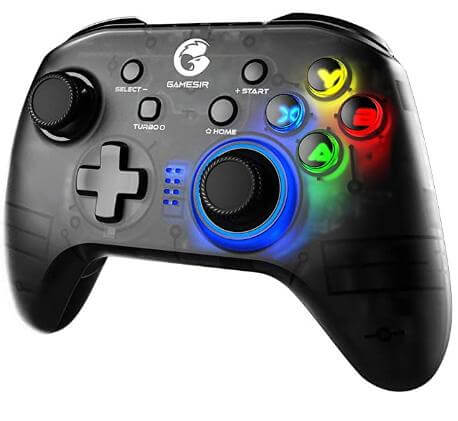 It has a built-in 6-axis gyro for more sensitive play, dual motors with levels for vibrations, and programmable buttons. The stunning colorful LED backlight on ABXY buttons and the right joystick glow even in the dark. It can be connected via Bluetooth, a 2.4 GHz receiver, or wired.
With 90 mins of complete charging, you can play for 15-18 hours. Can work with android, android TV, pc, switch, Nintendo, and MAC.
Official controller of PlayStation. It has a motion sensor, haptic feedback, adaptive triggers, a built-in microphone, a headset jack, and an integrated speaker. It can be connected to a Fire Tv stick via Bluetooth. It has a built-in battery which you can recharge via USB Type-C.
Amazon Fire TV Game Controller deals 2022
Specs:
Voice search feature for finding games, movies, and music
Ergonomic design
Precise & responsive controls
Play hundreds or more games on Amazon Fire TV & Fire TV stick
Up to 90 hours of gameplay without headphones
Compatible with all-new Fire TV stick & Fire TV
For the USA: Order Here
For the UK: Order Here
The official Xbox controller can be connected via Bluetooth or wire. It has a hybrid D-pad, textured grip on the triggers, bumpers, back-case, and audio jack. It has a separate capture button for easy sharing, and you can program the controller's buttons.
Compatible with all common platforms, including Fire Tv stick. 16-button design with two high-precision variable joysticks makes this one of the most valuable and powerful gamepads. It has an in-built rechargeable battery and the highest quality ABS plastic material for the most extended life.
The hybrid design of Dualshock and Xbox 360 controller with LED status panel for connectivity and battery. Its buttons are customizable. With 2 included AA batteries, you can play for 40 hours.
Compatible with Nintendo Switch, pc, android tv, and many more. It has high-sensitive buttons, supports gyro axis function, dual motor double vibration function, and screen capture function. It connects up to 4 controllers to one console.
Amazon Fire TV Game Controller 2022
Specs:
4K Ultra HD quality
1080p HD stream on Amazon Video, Netflix, YouTube, and more
Alexa voice remote for control TV
Share photos or videos
75% more processing power
Voice search feature for easily find you want
Perfect for gaming such as Minecraft, Lego star wars, etc.
Enjoy 300000 TV episode & 7000+ apps & games
2 GB memory & 8 GB storage (Expandable up to 200GB)
#1 high rated
For the USA: Order Here
For the UK: Order Here
And that's all. Which of the Amazon Fire TV gaming controller did you like? Tell us in the comments below. Stay and connect with us for the latest updates.