Last Updated on February 16, 2023 by Bestusefultips
Are you looking top Android dock for a car? In this article, you will find the best phone holder for car in 2023. Phones have become essential in modern life, like using GPS for navigation. But to use GPS properly, you will need a suitable car phone holder as it will keep the phone in your view without obstructing it and hold them securely during the bumpy ride. There are different types of mobile car holders; dashboard mount, windshield mount, air vent mount, or magnetic or mechanical mount. Both mounts have different pros and cons. Buy your favorite car phone holder from Amazon, Walmart, Best Buy, and other online stores.
Mechanical mounts don't require a metal plate, can provide wireless charging, and can secure bulky phones with a thick case, but the mounts are generally sturdy. Magnetic mounts are super easy to use, but you must place a metal plate behind the phone's back, making wireless charging incompatible. So do you want to buy the best mobile holder for car dashboard?
Check Also: Best Magnetic Phone Mount Deals
Best Car Phone Holders 2023
Check out the below-given car phone mount deals for 2023.
Scosche MAGDMB MagicMount
The highest-rated car dock on our list is this magnetic phone holder. You can place it on the dashboard or any flat surface. It is equipped with neodymium magnets that can hold any phone or tablet due to its more potent attractive force than regular magnets. It has 4 axis and 360-degree rotatable. To use them, you must place metal under the phone case or behind the phone.
Bestrix Universal Cell Magnetic Phone Holder for Car
This is a dashboard phone mount with a magnetic attachment. It firmly sticks to the dashboard with the help of a super strong suction cup irrespectively of dashboard material. With a silicone pad over attachment, you do not have to worry about scratches, so you have to place your phone for easy, hassle-free mounting.
VANMASS Universal Car Phone Mount
Because of its powerful suction cup, this dock works for every surface, be it the dashboard of any material, air vent, or windshield. Suction cups have secret gel formula to ensure suction, and they can handle extreme weather of -4 to 194 degrees Fahrenheit and unique steel clip can grab any phone under 0.7-inch thickness. 
Ainope Gravity Phone Holder for Car
If you don't like magnetic mounts because you do not want to attach the metal plate to the back of your phone and still want a hassle-free mount, then this phone holder is perfect for you; slide your phone, and due to the weight of your phone side clamps will close. Your phone won't slip due to the auto lock and inner silicone pads of the side clamps. This case is recommended for a horizontal air vent and phone thickness of 0.5 inches.
Spigen Kuel QS11
Super simple mount; it has a quad grip to clasp on a flap of an air vent, and it works on any vent. Then tap the back of your phone to dock your phone. This mount is considerably thinner than other vent mounts and has padding, preventing scratching on your phone's back. Magnetic type attachment and its round design allow you 360-degree orientation freedom.
Check Also:
iOttie Car Phone Holder Charger
This is a windshield phone mount. This is one of the unique phone mounts which allows wireless charging of Qi-compatible phones. It has a one-touch mechanism; push your phone against the button to automatically close side arms around your phone to secure it. You can adjust the viewing angle by extending telescopic arms and pivoting 270 degrees.
Kenu Airframe Qi Wireless Charging Vent Mount
Wireless charger- phone dock hybrid provides 10W wireless charging of Qi-compatible smartphones while securing them on an air vent using two spring-loaded side clips. This device works on all vents, and the clips are strong enough to hold any phone below 6.8 inches securely. You can rotate the mount head 360 degrees to adjust phone orientation and viewing angle.
Best Universal Car Air Vent Phone Holder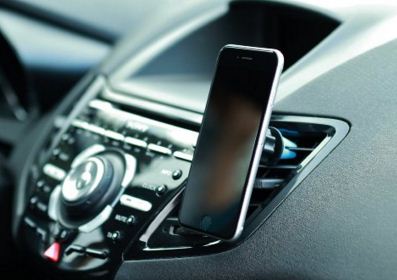 Specs:
360-degree visibility
Powerful magnet
High-quality rubber gripper grabs
Hands-free technology for commuter
Easy to adjust on your device
iOttie One Touch 2 Car and Desk Mount Holder Deals
Specs:
Sticky gel pad sticks
Safe, Versatile, and efficient
Two-step locking lever to use on different surfaces
Rinse with warm water & let air dry
Telescopic arm to better viewing angles
Separate dashboard to support textured & curved surfaces
Award-winning wireless charging car mount
Koomus Magnetos Car Mount Holder for All iPhone & Android Devices
Specs:
Universal & compatible with all smartphones
CD slot as a built-in phone mount
Cradle-less & quick snap one-hand mounting
Sophisticated rectangular design
Most convenient car mount holder
And that's all. Which car mount for phones did you like? Tell us in the comments below. Stay and connect with us for the latest updates.
Related: