Last Updated on March 25, 2023 by Bestusefultips
Here are the best Car GPS Navigation Systems deals for 2023 for cars, bikes, boats, BMW, Toyota, trucks, and buses. The navigation system is a device that shows you the optimal or desired route to your destination without using your phone's data. These systems also display traffic information, fuel pricing, parking space, speed camera, etc., which is unavailable on the mobile navigation system. So do you want to know the best GPS navigation for cars in 2023?
These GPS navigation for cars will provide the fastest routes with accurate arrival times and navigate with the latest maps of the USA, Mexico, UK, Europe, Asia, Canada, Scotland, Africa, and other installed places. Also, compatible with video player, Bluetooth, Camera, internet, and more. This car GPS navigation system has a USB cord, window mount, SD card, and charger that quickly charge your GPS navigation device. You can also use a portable Garmin friction mount to attach your existing cradle easily.
Check Also: Best Robot Vacuum
Best Navigation System for Cars in 2023
Check out the below-given top best GPS system for cars.
Garmin Drive 61 Best GPS for Car Garmin
The Garmin GPS tracker comes in 5-inch and 6-inch, with a dual-orientation display, i.e., you can watch in horizontal and vertical views per your convenience. The display features WVGA Color TFT with a white backlight. Garmin service provides you real-time traffic information, and live to park, and alerts you about changes in traffic speed, dangerous curves, speed cameras, and many other required warnings. 
OHREX GPS Navigator
This 7" navigation device suits cars, trucks, and RVs. The navigation system will provide detailed step-by-step instructions in a clear voice, lane guidance, road warning, and an intelligent route planner. You will get both 2D and 3D maps of the USA, Canada, and Mexico are pre-installed with free regular updates.
Aonerex GPS Navigation System for Car 2023
You will get lifetime updates of 2D and 3D maps updates of N. America for free. It has a 7" TFT LCD touchscreen with 800x480p resolution and 500cd brightness. The navigation system will provide information about speed camera alerts, route planning, current speed, allowed speed, the remaining time before arrival, and step-by-step voice instructions on the route.
CarGad Navigation System
CarGad is a 7" touchscreen navigation device with 800x480p resolution and a 2500mAh LiPO battery; it also has a dashboard suction mount. A navigation system can provide multi-language step-by-step instruction along with intelligent route error correction in case you make a wrong turn. It includes the street name, estimated arrival time, and sound warning. Pre-installed maps are of US, Canada, and Mexico.
XGODY Car GPS Tracker 2023
XGODY provides lifetime updates in 3D and 2D maps of America without any subscription fee. Its voice steering system provided turn-by-turn instructions for an optimized navigation route. It also alerts you about red lights, speed cameras, sharp turns, remaining time, etc. The device is 7 inches with 8GB internal storage and 256MB RAM and comes along with a suction dashboard mount.
TomTom Portable Car GPS Navigation: 1515M Style
Specs:
Split-screen view for multi-window mode
5-inch touchscreen display
4 full map updates every year
Most accurate and fastest routes arrival
Extra navigation clarity for complex ways
Slim & foldable port mount
Navigate with the latest maps of the already installed country
For the USA: Order Here
For the UK: Order Here
For India: Order Here
Best Garmin for Car GPS 
Specs:
Lifetime maps
5-inch dual-orientation touchscreen display
Spoken speaker for turn-by-turn directions
Preloaded maps, and displays speed limit
Perfect for GPS geographic location of North America & South America
Brightly colored arrows show the perfect lane position for the next turn or exit
#1 best Garmin handheld GPS navigation system 2019
Car GPS USA: Order Here
Car GPS UK: Order Here
Car GPS India: Order Here
NAVRUF GPS Navigation
Featured loaded navigation system supporting postcode, address, coordinates, and POI search system to find and lock destination. It will also provide features like active lane assistant, remaining distance and time, sound warning, speed camera alerts, voice instruction, and MP3 and MP4 players. It has 7 vehicle modes and different route planning: fast, economical, easy, and green. 
Garmin DriveSmart Best Car GPS Navigation Systems
This device brings many features like hands-free calling when paired with your smartphone, voice assistance, voice instruction, and voice alerts about traffic, cams, and parking availability. It gives signals from a school zone, sharp curves, and fuel prices. It also features built-in Alexa, so you can play music or listen to podcasts or audiobooks. It comes in 3 sizes: 7", 6", and 8".
TomTom Go Supreme GPS System for Car
You will get features like Tomtom traffic which shows you live and accurate traffic and speed and offers better routes. Tomtom speed camera alerts, trip statistics showing your driving patterns, and TomTom Road trips let you plan your journey.
RONGJI GPS Navigation
Rongji provides a better route as per your vehicle. You will get step-by-step voice navigation in the voice of both genders in multiple languages. The device is a 7" capacitive touchscreen with 800x480p resolution with adjustable brightness. It also shows the speed limit, arrival time, camera alerts, and traffic.
Carelove Car GPS Navigation System 2023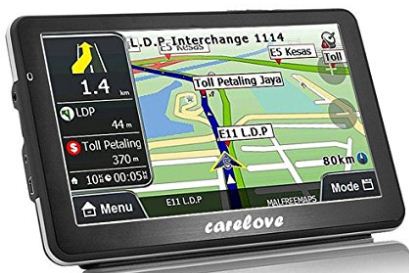 Specs:
7-inch HD screen with sunshade visor
Easy to navigate destination
High-functional multimedia player
Lifetime free map update
Built-in SD card with Mexico map, America map, and Canada Map
Also include a car charger, cable, mount, and book with a colorful guide
For the UK: Order Here
TomTom Go Discover 7 Car GPS Navigation
It features a large HD 7" touchscreen with a powerful speaker, which allows crystal clear step-by-step voice navigation. It shows fuel pricing, live traffic, parking availability, and fuel station information. 
Xinda Best GPS Navigation System for car
Specs:
7-inch TFT LCD touchscreen display
256MB DDR2 RAM & 8GB memory (Expand up to 32GB)
Windows CE 6.0
Ultra-thin & 0.8mm thickness
Perfect place location including tourism, industries, POI, catering, and more
Support USB, TF card slot, and headphone jack
For the USA: Order Here
For the UK: Order Here
For India: Order Here
And that's all. Which GPS Navigation system did you like? Tell us in the comments below. Stay and connect with us for the latest updates.
Check Also: