WhatsApp is one of the most use messenger apps to chat with friends or family member and send photos, videos, docs and other information. You can send message one by one from your WhatsApp contact list. Do you want to send broadcast messages Whatsapp android?  You can send message more than one recipients at a time using broadcast messages feature on WhatsApp android phone.
When you send broadcast messages to more recipients, they must have your phone number in their address book. All recipients get your message but they don't know that it was a broadcast message. When they reply your message, it will be individually get message respond. In this tutorial, i will show you step by steps guide to send broadcast messages WhatsApp android phone or tablet.
Also Read:
How to switch voice call to video call on WhatsApp Android
How to make group video call on WhatsApp Android
How to change WhatsApp number android device
How to send broadcast messages WhatsApp Android Lollipop 5.1.1, marshmallow
Step 1: Open "WhatsApp" app on your android device
Step 2: Tap on "More" or "three vertical dots" from top of the right side corner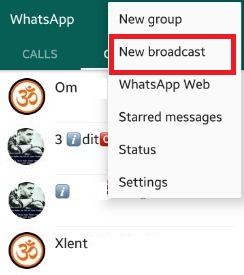 Step 3: Tap on "New broadcast"
Now, select contacts from list want to send WhatsApp message
Step 4: Click on "True mark" arrow from below right side corner
You can see the below screen on your android phone or tablet device
Step 5: Enter message and send your messages more then one recipients at a same time
Only contacts with your phone number in address book will receive your broadcast messages.
After created broadcast list, you can add recipient from WhatsApp contact list and see broadcast list info. This broadcast list is also secured with end-to-end encryption feature. In broadcast media, you can see the media, documents and links of your broadcast list contacts share with you. You can also share large files with your contacts using your email id or Gmail account.
Did you find above process to send broadcast messages WhatsApp android helpful? If you've problems implementing this, let me know on below comment box, would be pleasure to help you. Connect with us for daily updates!