Last Updated on March 26, 2020 by Bestusefultips
Do you want to change the default USB configuration on your latest android phone or tablet? We all mostly use USB connection type to access files on PC from the android device. By default, your device connected in USB charging with mass storage. You can change this USB configuration setting using developer options. There are 6 different options available for USB configuration including charging, media transfer protocol (MTP), Picture transfer protocol (PTP), RNDIS (USB Ethernet), Audio source and MIDI.
It's easy to connect android phone to PC with USB mass storage mode using a cable. After set MTP mode on your device, you can transfer photos, songs, movies, and other files from an android phone to a PC/Laptop device. This tutorial steps perfect for android marshmallow 6.0 and lollipop 5.1.1 device such as Samsung Galaxy S6 & S6 edge, Galaxy J7 & J5, Galaxy S7 & S7 edge plus and Google Pixel & Pixel XL 7.0 device. Follow below given simple steps to change Android USB settings on your latest devices.
Read Also:
How to Change USB Mode on Android phone
Check out below given settings to configure your latest android USB settings.
Set the default USB Connection Type on Android 10 and 9 Pie
Step 1: Go to settings in your latest android devices.
Step 2: Scroll down and tap on System.
Step 3: Tap on Advanced.
Step 4: Tap on Developer options.
If you can't see the developer option, you can enable developer mode on your latest android devices using this.
Step 5: Scroll down and tap on Default USB configuration under the Networking section.
Step 6: Choose Android 10 USB settings from File transfer/Android Auto, USB tethering, MIDI, PTP, or No data transfer.
For Android 7.0 Nougat, 6.0 Marshmallow, and 5.1.2 Lollipop:
Step 1: Open the "Settings" app on your android.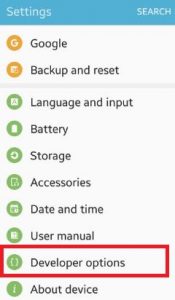 Step 2: Scroll down until the end of the page, tap on "Developer options".
In some of the devices, developer mode is hidden, using this trick enable developer mode on android phone.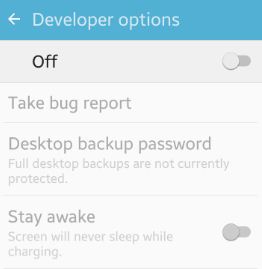 By default disable or turn off developer options.
Step 3: "Turn on" developer options.
You can see the below screen on your android phone.
Step 4: Tap on "OK".
Now enable developer mode on your device and see settings.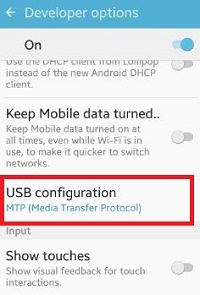 Step 5: Under the networking section, tap on "USB configuration".
You can see various below options on the screen.
Step 6: Choose from above-given options want to set or change the USB configuration android phone.
That's all. Above you can see the process to change USB settings android phones. Did you find the above process helpful? Let us know on below comment box. Share this USB configuration trick with your friends on social networks. Connect with us for daily updates.