Last Updated on May 24, 2023 by Bestusefultips
Do you want to set or change the camera storage location on Android devices? By default, lt stores photos and videos on your Android device storage. You can see all images, screenshots, Google Photos, and other taken pictures by your device camera. By default, all your camera photos and videos are stored in your phone Device storage > DCIM/Camera. It's simple to change the camera storage location from device storage to MicroSD card using camera settings.
You can change the front video size to FHD/HD/VGA, save pictures as previews, review pictures, location tags, and other settings. You can enable gesture control on your Samsung phone to take pictures automatically after a few seconds, hold your hand out with your palm facing the camera to take photos.
Read More: How to Use Locked Folder on Google Photo App
How to Change Camera Storage Location on Android Phone
Step 1: Open Apps on your Android device.
You can see a list of various apps on your smartphone.
Step 2: Tap on the Camera app.
Step 3: Click the Settings Gear icon from the top left corner.
You can see a list of all camera settings options.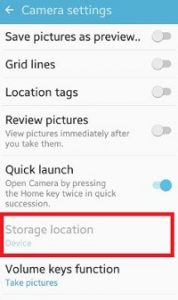 Step 4: Scroll down until you see the Storage location and tap on it.
By default, photos and videos are stored on your device storage the DCIM folder. You can't change your smartphone's storage location if your phone has no MicroSD card.
Step 5: Select the MicroSD card to change the camera storage location on your Android phone.
How to Change Photo Storage Location on Android – Older Samsung Phone
Open the Camera app > Settings gear icon > Storage location > Device storage or SD Card.
That's all. It's easy to change the default save camera location storage on your Android devices.
Did you find the above steps to change the camera storage location Android phone helpful? Please let me know in the comment box below if you have any questions regarding the above process. It would be a pleasure to help you. Don't forget to share this trick with your friends on social networks.
Read Also: