Here is the list of high rated and fully responsive WordPress plugins for Ecommerce sites such as online store, online business, E-Stores and other online business store. Using these best Ecommerce plugins for WordPress, you can make amazing and marvelous looks of Ecommerce site. These all Ecommerce WordPress plugins 2019 are compatible with all smartphone including Android, iPhone, iPad and more. Below you can see the coolest wordpress plugins for ecommerce 2019.
Check also : Responsive WordPress themes for bloggers
5 best WordPress plugins for ecommerce: Top reviews 2019
Woocommerce pretty emails
This is one of the best responsive and easy to use Woocommerce email template design. Set Header image link, upload company logo & link, footer logo width, body font size, set h1, h2 & h3 tag size, product thumnabil size, add extra link colors, add / set social networks options, email text customization and other great features. This is #1 best sales (1643 time) with 4.68 average ratings WordPress plugins for ecommerce 2016.
Woocommerce plugin
This awesome grid / slider / carousel WordPress plugin contains 14+hover & 38+ content animations, flexible device wise items define, unlimited fonts colors, size, style, hover overlay colors with opacity, 37+ hover content animations with live preview and other great features. This WordPress plugin sale 402 times and 4.42 average ratings.
Woocommerce product slider / carousel
This responsive design and rotating slider plugin is best to easily control the look and function of the slideshow and easily customize design with robust documentation. This ecommerce plugin developed 5 different style options for matching your theme and works awesome on smartphone including android / iPhone / iPad. This WordPress plugin 2019 sale 871 times and 3.43 average ratings.
Woocommerce Ajax drop down cart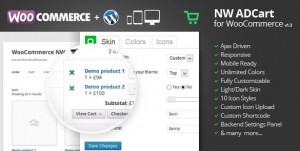 This fully customizable & responsive plugin for ecommerce contains Ajax driven, 10 icon styles, custom icon upload & custom shortcode, unlimited icon & background colors, backend settings panel and many more features. This WordPress plugin for ecommerce sale 290 times and 4.12 average ratings.
Woocommerce Zoomifier plugin for WordPress
This mobile friendly & fully customizable plugin allow you to customize styles & settings, choose slider transition effect & responsive settings, disable zoomifier for specific categories or products. You can fix variable products zoom issue & sale icon to show on top, CSS issue and thumbnails gallery. This WordPress plugin sale 49 times and 5.0 average ratings. This is the 100% full rating WordPress plugins for ecommerce 2019.
Above you can see the high rated WordPress plugins for ecommerce 2019. Which of the above best ecommerce plugins for WordPress should you prefer most for your ecommerce site? If you have known other popular wordpress plugins for online business or store then share with us.