Last Updated on March 7, 2021 by Bestusefultips
Whether you are traveling for fun or business, getting the most accurate currency converter is highly important. Its really thanks to technology, there are several best currency converter apps for Android in the market with which you can check multiple currencies, exchange rates, and money transfer on your fingertips. You can easily convert all world currencies with the latest exchange rates. Also, check the real-time exchange rate and save it offline mode in your Android device.
It is a must to have knowledge about the currency of the country you are visiting. Because during foreign transactions you need to have accurate information into the local currency. Money-changers are available and you can find one easily but the verification process takes too long with very detailed data. So, to ease your worry in foreign countries it is advisable to have an Android app in your hand. These apps offer an easy way to stay updated with the ever-changing currency rates. These apps are a blessing to frequent travelers and business people and help in comparing various local currencies.
Read Also:
10 Best Currency Converter Apps For Money Exchange

Let's see the top 10 best currency converting app for you.
Easy Currency Converter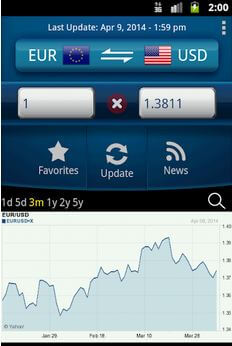 Here currency converter app helps you to convert over 180+ currencies with live exchange rates. Also, you can use this app without the internet or wifi connection as offline. In this, you can convert multiple currencies at one time with no roaming fees. So, get live rates and graphs as your assistance with the Easy Currency Converter app. This app contains 180+ world currencies with current exchange rates and graphs of 1 day to 5 years. You can converts up to 22 currencies & take the currency you need.
Features:
Works offline
Quickly add a new currency
Regular update & live rates
Country flags for all currencies
Simple and easy to use
Currency Converter Plus
Currency Converter Plus is user-friendly and easy to use application for everyone. With this app, you get multiple currency fields, historic rate charts, and a built-in calculator for your convenience. So that while you have to travel abroad you can be completely free from your worries about currency. In addition, you can use is app as offline. So, convert currencies without any worries and calculate them in one application without switching back and forth.
XE Currency Converter and Money Exchange

Frequent travelers and businessmen use the most popular online currency converter. This app was one of the best and the fastest currency conversion sites known for its accurate results and services. Use XE to stay updated on the ever-changing rates of precious metals and world currencies. Enjoy smooth money transfer, highly competitive rates, and view rate charts with this incredible app. You can check live currency rates, charts, and store rates without the internet. This Currency converter app is #1 popular foreign exchange Android app.
Features:
Live currency rates & charts
30000+ currencies charts
Convert price without internet
Every minute refresh
All Currency Converter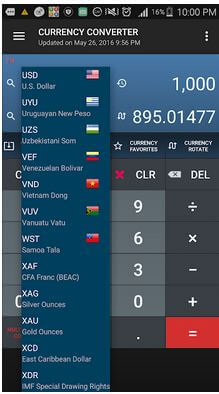 This app gives Get real-time exchange rates with this powerful app. It is one of the most popular currency converter apps for Android, which supports up to 100 different currencies. In this app, you can a tip calculator that can give an exchange rate list and convert multiple currencies in seconds. It also supports batch conversion and gives details about currency trends and charts. Use this app to see a real-time currency exchange rate converter of 162+ currencies with minerals including Platinum, Gold & Silver.
Exchange Rates and Currency Converter

Get a live exchange rate from every world currency with the Exchange Rates app. In this app, you can easily track currency, view interactive currency charts, or can quickly convert any currency pair. The app supports 180+ currencies, precious metals, and bitcoin. The app also makes it easy for searching by segregating into country, code, name, or symbol. So, this app helps to convert multiple currencies at once and get results in a few taps.
Features:
Former eurozone currencies
Works offline
Integrated calculator
Easily search currency
Precious metals
Unit Converter
Unit Converter is simple and easy to use and has a clean user interface. This app has a quick list view feature which lets you view all conversion at one glance or you can make your own favorite list. In this app, it has no ads and includes a currency converter with over 60 currencies. Also with the paid version of the app, you can unlock 169 currencies.
Currency Converter App For Android

This Currency app converts 190+ currencies & 4 precious metals. You can check the inter-bank rate or percentage to calculate the current rate charged by banks & credit card companies.
Features:
Lightweight & excellent android app
Accurate exchange rates
Currency Converter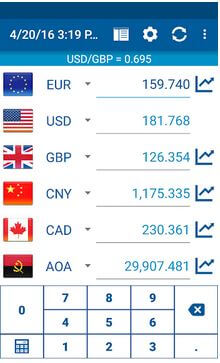 You can calculate the currency converter and exchange rate up to 15 currencies at once. Also, get the latest exchange rate list with currency charts and historic data.
Features:
Convert 15 currencies at once
Manually add custom currency
Amazing graphics
Offline usage
Currency Converter

You can track currencies from all world. This app contains multiple stability bugs with Twitter integration. You can also develop a currency list.
Currency FX Exchange Rate App

This android app contains 150+ world currencies & 5 metals with current currency exchange rates. You can also get currency exchange rate charts & list and search currency using the country name or currency code.
Features:
Best convenient & accurate
Currency conversation without internet
Auto-update on a regular interval
Here we show that multiple currency exchanges are available in tourist areas, but still, its always a good idea to check the current status. Fortunately, there's a host of currency conversion apps available to get the latest exchange rates over several countries. If you have any questions please share it with us.