If you have change your mobile number or lost SIM card and other several reasons for change WhatsApp number in android mobile. It is quite simple to change WhatsApp number in android. Most of the people switch or change WhatsApp number due to WhatsApp spam messages or lost card.
It is recommended that whenever you change WhatsApp number all your WhatsApp conversation lost within last auto backup. This tips of how to change WhatsApp number in android is perfect works for latest android version (lollipop).  There are several reasons why number of people changes WhatsApp number in android mobile.  To change WhatsApp number or delete old number follow below given steps.
Step 1: Open "WhatsApp"
Step 2: In the right side corner click on the "more" option
Step 3: Choose "Settings"
Step 4: Tap on "Account"
Step 5: Tap on "Change Number"
Step 6: In the change number menu, click on "Next"
Changing your phone number will migrate your account info, groups and settings. Before change number confirms that your new number is able to receive SMS or calls at your new number.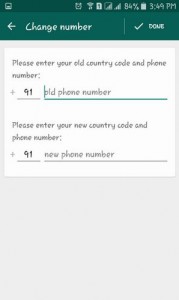 Step 7:  Now, first of all type your old phone number in the first text box and then after type your new phone number in the second box
Step 8: Tap on "Done"
Step 9: Now, you're new WhatsApp number automatically registered and successfully change WhatsApp number in android
WhatsApp > Settings > Account > Change Number > Next > Done
Now, your number has been successfully changed or registered, you're old number and its conversation delete from WhatsApp. You can view or chat with only those numbers which are registered on new mobile number.
If you have more time change WhatsApp number in android with different devices or SIMs, you may be blocked so you can re verify your WhatsApp account or start new account. If you have any query or trouble related with above steps then please comment below.