Last Updated on March 7, 2021 by Bestusefultips
When you tap a screen on your Android Nougat device and it's vibrating every time. By default enabled vibrate on tap (Haptic Feedback) in Android 7.0 devices. If you are annoyed with this touch vibration on your device, check out this article to disable or turn off vibrate on tap Android 7.1.2 Nougat. You can enable or disable screen lock sounds, dial pad tones, charging sounds, touch sounds, and touch vibration. You can turn off vibration on Android 7.0 & 7.1 using the sounds section.
In Nougat device, do not disturb mode allows only priority wise calls, messages, events, reminders, alarm, and repeat callers. Also, set vibrate for all calls coming on your device. Below you can see step by step guide to turning off haptic feedback on Android Nougat 7.1.2.
Read Also:
How to Enable or Disable Vibrate On Tap Android Nougat 7.0 & 7.1
Step 1: Tap on "Apps" from your Android 7.0 & 7.1 Nougat device home screen.
Step 2: Go to "Settings".
Step 3: Tap on "Sound" under the device section.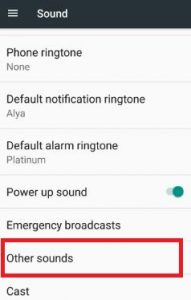 Step 4: Scroll down until see "Others sounds" and tap on it.
You can see various sound options such as dial pad tones, phone screen locking sounds, touch sounds, and more. By default enable touch vibration or vibrate on tap on your Android Nougat 7.1.2.
Step 5: Toggle off "vibrate on tap".
Now turn off vibration touch on your Android Nougat devices. You can disable vibrate on alert using emergency alert settings on your devices.
Did you find the above process to disable vibrate on tap android Nougat 7.0 & 7.1 helpful? Let me know in the comment section if you have a concern regarding the above-given steps. It would be a pleasure to help you. Don't forget to share these tricks with your friends. Stay connected with us for daily latest android updates!