Last Updated on September 7, 2022 by Bestusefultips
Here's the list of the 7 best screen protectors for Samsung Galaxy Z Fold 4 in 2022. Screen protectors are thin films of plastic like TPU, EPU, or glass glued to your smartphone's touchscreen to protect it from daily scratches caused by keys and drops. Because the Fold 4 features a foldable front screen, the inner protectors are composed of flexible TPU or EPU material. It is best to have hinge protection, camera protection, and outside screen protection, as these are all vulnerable to harm. So do you want to buy the best Galaxy Z Fold 4 screen protector?
Don't Miss:
Samsung Galaxy Z Fold 4 Screen Protectors in 2022
Milomdoi Screen Protector
It includes three 9H glass outside screen protectors, 3 TPU inside screen protectors, and three camera protectors, along with outside and inside installation frames for accurate installation. 3 TPU screen protector film is unique in that it won't have any creases or bulges even after folding 200000 times, along with general self-healing properties. Both camera and outside screen protectors are 9H tempered glass with 99% light transmittance.
Spigen Best Screen Protectors For Samsung Galaxy Z Fold 4
It provides an auto-alignment kit for easy installation. Pack includes an outside screen protector made of 9H tempered glass with oleophobic coating and scratch resistance. 
Gliansen Screen Protector
It includes an outside screen protector, inside screen protection, a back panel protector, and a hinge protector. These screen protectors are premium TPU material with 99.99% light transmittance and a true touch feeling. As a stand, it comes with anti-scratch & bubble-free properties. 
LYWHL Fold 4 Screen Protector
This pack includes 2 front screen protectors, 2 back screen protectors, and camera protectors. These are made from new modified EPU material with only 0.22 mm thickness and oleophobic coating to reduce fingerprints, oil residue, and self-healing, which can repair itself in 24 hours from minor scratches. 
Whitestone Samsung Galaxy Z Fold 4 Screen Protector
One the stand but expensive screen protector company. This pack includes two front screen protectors, adhesive liquid, and an installation dome. The screen protector is 9H tempered glass which resists scratching. Installation can be a little complicated. Thus, it is recommended to watch their installation video guide.
TOCOL Privacy Screen Protector
This glass protector is a high-quality 9H tempered glass that can easily resist scratches and drops. It consists of 3 tempered glass screen protectors and three camera protectors. It also has a 99.99% light transmittance rate, meaning it won't change colors or clearly. 
Pollachi Best Screen Protector for Samsung Z Fold 4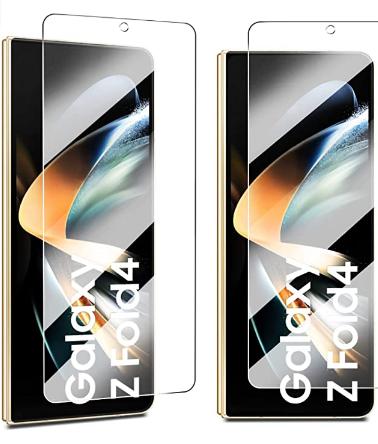 Most straightforward and cheapest front glass protector. This is 9H tempered glass with 99.99% transmittance rate, hydrophobic coating, oleophobic coating, and only 0.33mm thickness. 
And that's all. Which of the Fold 4 Screen Protector did you like? Tell us in the comments below.