Last Updated on January 31, 2023 by Bestusefultips
Here are the best Google Pixel watch bands for 2023. Google Pixel is a simple and elegant smartwatch with a sleek and smooth domed shape. Unlike Garmin watches, there isn't much around the touchscreen, so you should buy a better and more fashionable band. So we will provide you best Pixel watch bands.
You can find a Pixel watch bands third party on Amazon. Also, buy the company's official band from Google Store. They provide you with 5 different band models, and each model is made of another material and has other color options.
Check Also: Pixel Watch Charger Stand
Best Google Pixel Watch Bands 2023
Check out the below-given top best Pixel watch bands Amazon store.
Google Pixel Watch Woven Band
This is a trendy and colorful band made of recycled yarn. They come in three color options: lemongrass, coral, and Ivy. They are water and sweat resistant. They can fit around 137-203 mm wrist.
Google Pixel Watch Active Band
Default Pixel watch band, which comes along with your watch. It is made of fluoroelastomer with a soft touch coating and lasts long under all conditions. It is water-resistant and sweat resistant, perfect for workouts. You will have lemongrass, charcoal, obsidian, chalk, and hazel as color options; these are pop colors and will suit no matter how you dress.
TenCloud Stainless Steel Pixel Watch Band
If you are classy and want a metal band for your Pixel watch, this is perfect. You will have black, rose gold, and silver color options. These bands are 180mm long and can adjust to fit a 5.5" – 8.2" wrist by removing links. As these are made from stainless, these bands are extremely durable and will never rust.
Miimall Silicone Google Pixel Watch Bands 2023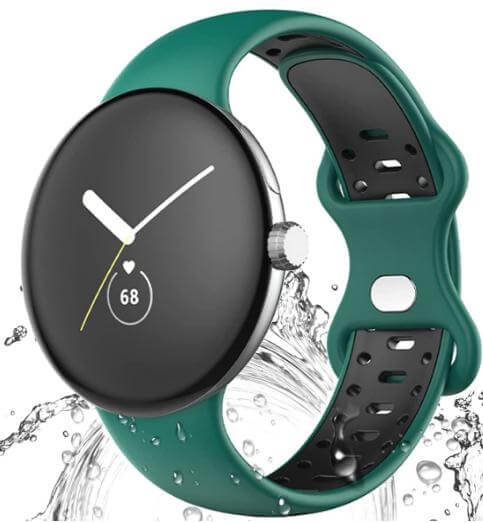 These are silicone Google Pixel watch bands suitable for 5.5-8.1 inch wrists and 6.1-9.1 inch wrists (Two available sizes). The silicone used is soft and flexible so that it won't irritate your skin. The design also includes tiny fashionable holes along the band for aeration to reduce sweating. These bands are dual colors with tons of color options.
Butofinus Google Pixel Watch Band
Elegant stainless steel metal band; it comes in gorgeous black or silver variants, and both will look classy on every occasion. These bands are made to last, so you won't have to worry about rust or breaking. It is suitable for 140mm to 221mm wrists.
Check Also: Google Pixel Slate M3
KOREDA Pixel Watch Metal Band
This band is a stainless steel metal band. It comes in a different design for both men and women. It can suit virtually any, as it can fit a 5.1-10.2" wrist by adding or removing links. You will get three color options: black, rose gold, and silver.
Miimal Google Pixel Watch Leather Band 2023
This band might interest you if you are a fan of vintage looks. It is made of 100% genuine seamless leather. It has a buckle-fitting design that allows you to adjust between 157mm and 222mm. 
Google Pixel Watch Two-tone Leather Band
This band is made of Italian leather with a smooth stainless steel clasp and lugs. It is perfect for any professional setting; you will get linen, charcoal, and chalk color options to suit your taste. 
Google Pixel Watch Crafted Leather Band
The crafted leather band gives a serious and traditional look with its premium luxe Italian leather material and elegant stitching. You will get two color options: Obsidian and Ivy.
Google Pixel Watch Strech Band
This band is made with comfort in mind. It has no claps or lungs; you can wear it over the sleeve. It is made of recycled polyester and spandex yarns, making it stretchable and breathable you can wear it all day. It is water and sweatproof too.
FAQs: 
How to Change Pixel Watch Band
To attach the band, line up the end of the band to the attachment and press the release button with the left edge, then slide left, and you will hear a click.
How to Remove Pixel Watch Band
To remove the band, press the release button, which will be left to the band attachment with one finger. Then slide the band towards the release button while pulling gently. 
And that's all. Which of the Pixel watch band did you like? Tell us in the comments below. Stay and connect with us for the latest Amazon deals.
Related: