Last Updated on May 7, 2022 by Bestusefultips
Gaming chairs are ergonomic chairs that correct your posture. These are generally flashy and maybe not be appropriate for professional settings. They are designed to provide full support to the spine and your neck, enabling you to sit on them for long hours without feeling uncomfortable. They can be reclined and tilted for relaxation. Generally, height can be adjusted. If the armrest is 4D, you can adjust the armrest. Do you want to buy the best gaming chairs 2022?
Looking for the best gaming chair for PS4, Xbox One, PC, or computer? You can see the cheapest deals on gaming chair 2022 on Amazon, Walmart, Argos, best buy, etc.
Read Also: Best Android Gaming Controller USA
Top 12

Best Gaming Chair Amazon

2022
Check out the below-given most comfortable gaming chair in 2022.
Simple looking chair with a professional look. This chair comes with unique breathable fabric to quickly dissipate heat. Has a padded neck cushion and lumbar support. Set your seat to your ideal height with 100mm of movement range, supported by a steel-construction class 4 gas lift.  
Material: Soft, breathable fabric
Recline: 170 degree
Weight capacity: 120kg/ 265lbs 
Weight: 23kgs/ 50lbs
Seating height: 17.5-21 inches 
Armrests: 4D no padded, but anti-slip
Foam: memory foam
Wheels: 65mm dual wheel casters. 
Provides a fully adjustable lumbar curve for outstanding spine support. The chair comes wrapped in multi-layered PVC synthetic leather—making it better suited to withstand the wear and tear from hours of daily use.  
Material: PVC Faux Leather
Weight capacity: 136kg/299lbs 
Height: 5'6″ to 6'2″
Armrests: 4D
Foam: High-Density Foam Cushions
Simple looking dual-toned chair. Contoured segmented padding, integrated padded headrest, and flip-up padded arms. Segmented padded seat and back design for extra comfort. Recline function along with central tilt.
Material: bonded leather
Weight capacity: 275 lbs
Height: adjustable
Armrests: padded flip-up armrest
X Rocker Video Gaming Chair: Wireless
Specs:
Connect with multiple chairs
2 speakers & subwoofer
2.1 AFM technology sound
Immersive sound
Ergonomic design
Vibration and pedestal base
Built-in radio wireless receiver
Perfect chair for video gaming
Good customer ratings
For the USA: Order Here
For the UK: Order Here
Homall High Back Gaming Chair 2022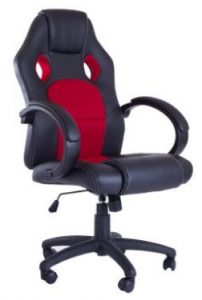 Specs:
BTM's modern lavish design
360-degree swivel
280 pound maximum weight capacity
Smoothly move the wheel on the floor
Suitable for napping & seating
Seat height adjustment
Perfect for gaming & office
For the USA: Order Here
For the UK: Order Here
A racecar-styled designed gaming car made for intense gaming. Segmented padding is designed to give highly contoured support. Adjustable headrest and lumbar support pillows. It also provides a foldable and extendable footrest. 
Material:
Recline: 90-155 degrees 
Weight capacity:  275 pounds 
Best buy gaming chair. PU Leather gaming chair with steel skeleton construction and neck and lumbar pillows. Adjust your seat height with 85mm of movement range, and stay there with a steel-construction class 4 gas lift. Adjust your posture with up to 10° of seat tilt. 
Wheels: caster wheels
Material: PU Leather
Recline: 90-180 degrees
Weight capacity: 120kgs
Armrests: 4D non-padded
Wheels: Nylon caster wheels
Alloy frame covered in quality Carbon fiber leather and 5 inches high-density foam. Neck pillow and lumbar massage pillow. 360 degrees swivel and ultra-smooth caster wheels. It comes with an adjustable seat height and a retractable footrest.
Material: carbon fiber leather
Recline: 90-165 degrees
Weight capacity: 350 lbs
Armrests: linkage armrest
Foam: high-density foam
Arozzi Monza Gaming Chair 2022
Specs:
360-degree swivel rotation
Adjustable height gas-spring
Lightweight for easy movement
5 twin wheel nylon casters
Ergonomic design
One of the best gaming chairs with a racing-inspired lock
Synthetic PU leather for easy cleaning
For the USA: Order Here
For the UK: Order Here
A solid steel skeleton frame with a 360-degree swivel. The tall back and deep seat cushion provide day-long comfort. Comes with a neck and lumbar pillow.
Material: PU Leather
Recline: 170 degree
Weight capacity: 136 kg
Weight: 54 pounds
Seating height: 51.5 – 60 cm
Armrests: 4D 
Wheels: rollerblade style wheels
4Gamergear
Specs:
Solid steel frame structure
High dense, resilient foam
SL4000 ergonomic racing style gaming chair
High-quality PVC leather
Extremely durable & luxurious look
Elegant exterior
Available in 7 different colors
For the USA: Order Here
For the UK: Order Here
X Rocker Gaming Wireless Chair 2022
Specs:
2.1 sound immersion
2 speakers and a subwoofer
Additional vibration motors sync with the bass
Tilt & swivel feature
Built-in radio wireless receiver
Includes optional RCA cables
The ergonomic elevated seating position
For the USA: Order Here
For the UK: Order Here   
And that's all. Which gaming chair did you like? Tell us in the comments below. Stay and connect with us for the latest updates.