Last Updated on March 7, 2021 by Bestusefultips
Looking for the best app for scheduling? Here's the list of top best free calendar apps in 2020 for your latest Android devices. By default added the Google calendar app. You can create & manage events, set reminders for a birthday, important day or meetings, add a goal, and more. You can manage events month, week & day wise and share your events or tasks with others. Also, set calendar notifications tone and vibrate in a calendar app. Below you can see the top best mobile calendar apps such as Google calendar, Business calendar 2, aCalendar, DigiCal Calendar Agenda, Business calendar, and more.
Read Also:
7 Best Calendar Apps For Android In 2020
Check out below given free Android apps for Calendar.
Google Calendar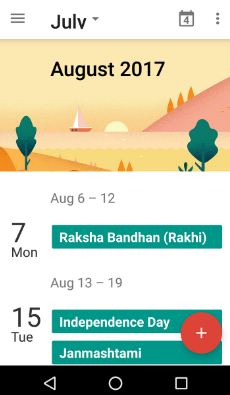 Google Calendar app is by default installed in the latest android nougat and other devices. You can quickly watch the schedule of month/week/3 Day or Day. Just tap the data and you can see all the details of that particular day. Easily create events to add title, people, places, and times of the event. Set a reminder of birthday and important meetings.
aCalendar
This is easy to switch between day, week, and month view. You can use android's native calendar backend and synchronization, add a new event, moon phases, flexible recurrences. In the extra features of this app, see public holidays, color theme, various business features, 48 colors per calendar, manage Google task, and more.
Business Calendar 2
This award-winning calendar app includes event planner and task management of month, week, and day wise view. You can see holidays, birthdays of your contacts, set event reminders, and support local calendar & tasks. Also, colorize various parts of the app and create your own theme (22 App themes).
DigiCal Calendar Agenda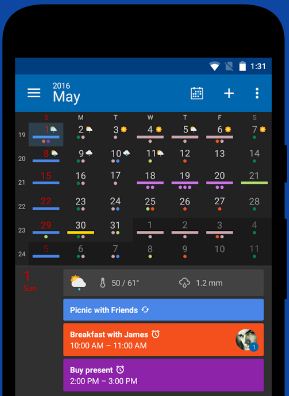 This powerful designer app for the calendar is best to schedule appointments with a planner that views day, week, month, year, next month, and all other events. Also, customize it using 6 elegant pre-set themes and 42 color synchronization with Google calendar. You can schedule an appointment in both local and foreign time zone.
Calendar Widget: Month

This modern and elegant calendar widget is integrated into any home screen layout and 80 hand-crafted themes with widgets. You can set calendar events, friend's birthday, quickly browses widget, choose calendar and more settings. It also syncs with Google calendar.
New Calendar
The is supported daily, weekly, monthly and yearly calendar functions. When event coming, voice reminders (TTS) notify about the event with voice. Also include 10 widgets such as calendars, clock, sticky notes with voice recording and more. And support sunrise, sunset, and lunar phase time.
Calendar widget month plus agenda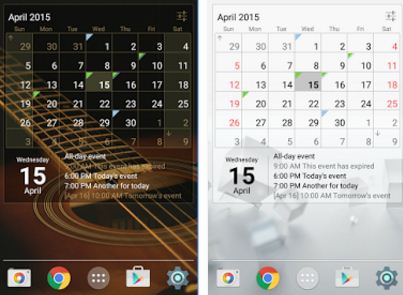 This is one type of widget, not a calendar app. You should use this widget on your device home screen. It synced with Google calendars and useful to set date & time for important events such as office meetings, birthday, ticket booking, and more. This is the trial version with not any limit, you can use this android calendar app free.
Hope you have liked one of these best calendar apps for android phone or tablet device. The list ends here. Don't forget to share this tutorial with your friends on your social network.