Last Updated on January 4, 2023 by Bestusefultips
This article will find the best Android speaker docks for Samsung Galaxy 2023. The docking station is a device that allows you to charge your phone while keeping it in a safe place. It is common for docking stations to be equipped with Bluetooth speakers that give you convenience and multipurpose use. These docking stations can also be used as portable speakers and power banks. So do you want to buy the best Android phone docking station with speakers in 2023?
Check Accessories:
Best Docking Station for Samsung Galaxy Phones in 2023
Belkin SoundForm Elite
Premium docking station for phones, To provide the highest level of fidelity and performance at any volume, it has Speaker Active Matching technology. Your phone can wirelessly charge your Samsung phone at 9W power, and Alexa can be used to connect to the speaker.
Philips Fidelio Docking Speaker 2023
It is a stylish android dock speaker featuring 10 watts clear Bluetooth speakers. It is compatible with any device with 2.1 Bluetooth or above. It has a USB port so that you can charge your Samsung phone. It also has auxiliary 3.5 mm input to connect your PC and mp3. By downloading the Fidelio app, you can access 7000+ internet radio stations. 
Belkin SoundForm Charge
It has a clear and crisp sound with a big bass. It has a Qi-enabled charging port to charge your Samsung device in horizontal and vertical positions. It also has 1 push Bluetooth connection and a mic to receive calls. Compatible with iPhone SE, 11, 11 Pro, 11 Pro Max, XS, XS Max, XR, X, 8, 8 Plus, Samsung Galaxy S20, S20+, S20 Ultra, S10, S10+, S9, S9+, Note 10, Note 10+, Note 9, Galaxy S8, S8+, S9, S9+, S10, S10e, Google Pixel 4, 4 XL, 3, 3 XL, more.
Philips Android Speaker Docks 2023
This speaker dock contains Wireless music streaming via Bluetooth, a built-in microphone for hands-free calls, portable music playback, and a dual alarm clock to wake you. You can quickly access your favorite radio station without tuning the frequency. It charges all smartphones (Android/iPhone) while you sleep.
Shenyun Android Docking Station 2023 – Best for Travel, Home Party, Outdoor
A docking station that functions as a stand enables you to view films for tablets and smartphones. It includes two 3W speakers that provide stereo music and a 10-hour playback capacity. It has a 3.5mm auxiliary input to connect it to your mp3 player or computer. With a built-in mic, you can make and receive calls too. Compatible with Samsung phones, iPad, Mini, tablets, iPhones, and other smartphones.
Read More: Best JBL Speakers
I-Box Speaker Dock
Small and very portable Android charging station. For strong stereo sound, it contains two 3W stereo speakers. One full charge will power the speaker for up to 18 hours with a 400mAh battery. It has Qi certification, so you can charge your phone wirelessly or with wire using a USB-c cable. With Bluetooth 5.0, you can wirelessly connect with the device. Compatible with Samsung Galaxy, Google Pixel, HTC, LG, Huawei, iPhone, and many more.
CENSHI Speaker Dock 2023
Android docking station has 10W fast wireless charging in vertical and horizontal directions. It has a 15W crystal clear Bluetooth speaker with Bluetooth 5.0 version, allowing you a 10M range. It works with both Apple and Android phones. 
Compatible with Samsung Galaxy S21 Ultra, S21, S20 Ultra, S20, S10, S9, S9 Plus, S8, S8 Plus, Note20, Note10, Note 9, Note 8, Note 7, Google Pixel 7 Pro, 7, 6 Pro, 6, 5, LG Etc. Qi-Enabled Smartphone, iPhone 14 13 12, 12 Mini, 12 Pro Max, 11Pro, 11Pro Max, XS, XS Max, XR, X, 8, 8Plus.
Philips Fidelio Docks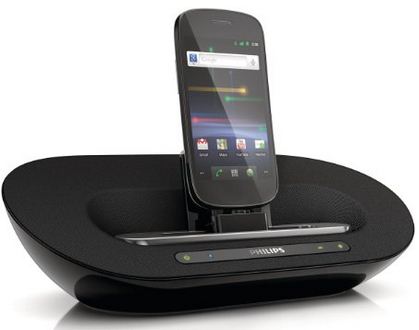 These Fidelio Android speaker docks for Samsung devices contain built-in speakers with crystal clear audio, sync music libraries between phone and PC, and give the latest weather reports. You can also listen to thousands of internet radio stations and share them with friends. This is one of the most used Philips speaker docks.
Larko Android Docking Station with Speakers 2023
It has a hi-fi stereo speaker, a resonance radiator, and a power amplifier that can connect to your Samsung phone via Bluetooth in a 33-feet radius. It also features a mic to receive calls. It can play for 5-8 hours and charge your phone through a USB connection via a cord. It can also work as a portable bank if you use a USB cable.
Compatible with latest Android, iPhone, LG, iPad, tablets, smart-phones, iPods, MP3, MP4, radio players, Samsung Galaxy Tab S6 S7 S8 S9 S10 Edge +, and other Bluetooth enabled digital players or media devices.
DockAll D5
Very minimalistic and compact design. It can work as a speaker, wireless charger, or dock and even receive calls. It has a dual 8W Bluetooth speaker for HD sound. It can wirelessly charge your Samsung phone at 10W. It has 3 vertical coils for charging so that it can charge 3 devices all at the same time. Best Wireless Charger for Samsung S22, S21, S20, and iPhone 14, 13, 12, 11. 
Read More: Best 45W Charger for Samsung Galaxy S22 Ultra and S22 Plus
JYATUTU Speaker Dock
Small and portable retro-designed dock speaker. It has a Bluetooth 5W mini retro speaker with Bluetooth 5.0 technology and 12 hours of playing time. It also has 10 W wireless charging with a 1200mAh battery. Its portability and lightweight make it a perfect speaker you can take anywhere. Compatible with iPhone, Samsung, Google Pixel, HTC, LG, Huawei, and many more.
iLuv Bluetooth Stereo Speaker Dock
Powerful amplifiers, stereo sound, sliding micro USB connector, built-in speakerphone, Bluetooth enables a device, micro USB charging, and other valuable features. This android speaker docks for Samsung device's best feature is "myBot robotics arms" to secure your smartphone in the dock.
LESON- Android Charging Dock Deal 2023
It can produce high-fidelity stereo sound using dual 5W speakers. These speakers are Bluetooth speakers, so you don't need any extra cable. It has a 4000 mAh battery and 20 hours of playback time. You can wirelessly charge your phone too. 
Compatible with Samsung Galaxy S9/S9+/S8/S8+/S7/S7 edge/S6 edge+/Note 9/Note 5, Samsung S6/S6 edge, LG G2/G3/G6 Plus/Lucid 2/Lucid 3/Optimus F5/Optimus G Pro/Optimus it L-05E/Spectrum 2/Vu 2/Vu 3.
LG: iOS & Android speaker dock with Bluetooth
Dual docking station, clear and crisp sound, enjoy your favorite music, easy to stream via Airplay, NFC, or Bluetooth. This best Android speaker docks 2023 is compatible with Android, iPhone, and iPad.
Which of the above portable design Android speaker docks 2023 should you buy? Above, you can buy the best Android speaker docks for Samsung Galaxy devices. If you know other best speaker docks for Samsung devices, please share them with us.
Related: