Last Updated on April 9, 2022 by Bestusefultips
Improve the experience of using the Google Pixel 4a using compatible accessories. These accessories include chargers, earbuds, cases, screen protectors, selfie sticks, enhancing lenses, watches, etc. Do you want to buy the best accessories for Pixel 4a?
Don't Miss This: Best Google Pixel 4a Cases
Best Pixel 4a Accessories
Check out the list of best Google Pixel 4a accessories.
This case provides a 3D hexacube texture with a thin frame and excellent protection. It comes with features like Raised edges around the camera for extra security, Screen Protector Compatible, Military-grade protection, Anti-slip, Dust-free, and Slim Fit. 
OMOTON provides four screen protectors with 9H hardness making them scratch resistant. These screen protectors are only 0.33mm thick, thus providing sensitive touch with an oleophobic and hydrophobic coating to reduce fingerprints. Edge are rounded to make them comfortable. Bubble-free installation with the help of a provided guide frame and.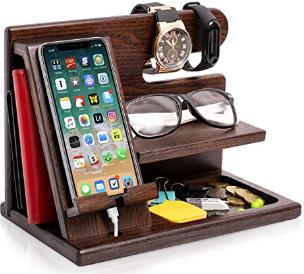 Wooden phone docking station to elegantly arrange your pixel device and accessories. It provides a place for a wallet, a wired charging station for a phone, a tray for stationery, a shelf for glasses/pens, and an arm for watches. (please note that you have to buy a charger and cable separately.)
These are camera enhancers for people in love with photography. In this set, both macro and wide-angle lenses are included, along with clips that can be used on front and back cameras and lanyards with quick-release heads.
DJI OM 5 is a three-axis gimbal and tripod. It has active track 4.0 – A next-generation algorithm ensures DJI OM 5 tracks subjects with more excellent stability and responsiveness, even while moving quickly and extensible rod making it ideal for selfies, vlogging, reels, or videos without shaking. 
Wireless in-ear earbuds. They have a 5-hour battery life in single charging and 19 hours charging from the case. Have three listening modes: music, movie, and podcast. These can be used solo and have IP55 sweat, water, and dust resistance.
It's fast, safe, and provides you with the best possible performance. With PPS ( programmable power supply), the charger will intelligently identify your devices automatically and provide the fastest and most efficient output current.
And that's all. Which of the Pixel 4a accessories did you like? Tell us in the comments below. Stay and connect with us for the latest updates.